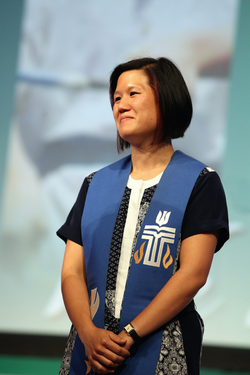 The following post was my submission to a special post-General-Assembly edition of the NCP Monthly, an editorial publication of the National Capital Presbytery. You can read the original issue here.
---
The 221st General Assembly of the PC(USA) has now concluded. Do you know how many times the ethnicity of our new Vice-Moderator has been brought up? A few too many for my comfort.
In case you're not aware, Elder Heath Rada and the Reverend Larissa Kwong Abazia were elected General Assembly moderator and vice-moderator respectively. Let me say that anytime a woman/person of color/woman of color is lifted to a position of influence and visibility is, even in 2014, remarkable and worthy of celebration. But the conversations surrounding her ticket's election leave me feeling that our still very white denomination is flailing awkwardly in this sea of diversity. On one hand, I hear her rightfully lauded for her work in making the PC(USA) a denomination that is now much more amenable to multicultural ministry and cooperation. On the other hand, I hear commissioners and observers alike crediting her race, her pastoral leadership of a multicultural church, and her "charisma" with handing her ticket a victory, which, if there is any merit to that, suggests that the PC(USA) might be hungrier for the appearance of diversity than truly achieving it.
I can't begin to know what went on in the hearts and minds of commissioners from 172 presbyteries from across the country as they sought the Holy Spirit's will in identifying our GA leadership, and I trust that the Lord's will was truly done. But these suggestions about the election are triggering for me, simply because those of us who find ourselves in the margins often feel that when we are spotlighted, the intention is to say, "We're not just white – Look at how diverse our denomination is!" It also brings to mind the micro-aggressions I've experienced right here in National Capital Presbytery from otherwise well-meaning sisters and brothers, such as when I was mistaken for a member of Christ the King Church at the stated meeting in which their chartering was celebrated. I found it curious that, even though there are a number of churches in our Presbytery that are either completely or significantly comprised of Blacks/African Immigrants, I was assumed to be a member of the one that was particularly visible on that day (it may be of note that I came to the stated meeting in my service to a predominantly Asian congregation). Whether it's hearing Black Presbyterians United referred to as a "subgroup" (as opposed to the important witness it is within our denomination) to witnessing the lack of understanding of just why Korean churches often need to assert their autonomy, it's very often clear to me that we have so much work to do in order that we may truly understand one another. And yet, I'm not entirely convinced that my brothers and sisters in the majority have that understanding.
This Reformation Sunday, Presbyterian churches have been encouraged to celebrate the 500th anniversary of the birth of John Knox by uplifting "our" Scottish heritage. No offense to any church or Presbyterian who intends to do so, but the mere suggestion that we celebrate "our" Scottish heritage (even if we don't mean personal or ancestral heritage) alienates a number of congregations who do not identify with a European/Western ethos. You probably won't see any tartans hanging in a BPU church. No bagpipes will likely be played in an Indonesian church. What seems innocuous to many of us unintentionally ignores or disenfranchises others of us.
I can't say enough how proud I am of this Presbytery and this denomination's efforts to foster multicultural cooperation. However, I fear that we're stumbling over our own feet to prove to ourselves that we are indeed multicultural, and if we're not careful we will instead promote tokenism and create terms that are favorable to the majority. We have a long way to go, and I truly believe that's okay; we will get there. It's just going to take a lot of humility, a lot of listening, and a lot of courage. God be with us.