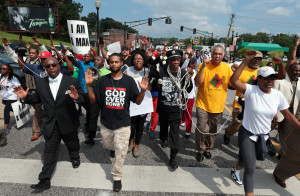 Now the Lord is the Spirit, and where the Spirit of the Lord is, there is freedom.

-2 Corinthians 3:17
When I was a child, I would accompany my mother as she did her weekend shopping. I would always ask for a candy bar, and she'd buy it for me. But even after paying for it, she wouldn't let me have it until we left the store. We had to be in the parking lot before I would even see that candy, if not in the car. I always wondered why that was. Why couldn't I eat it right there in the store? We paid for it — er, she paid for it. As I got older, I understood why.
My story is nearly identical to that of my peers and elders. Whether we were taught not to put our hands in our pockets while in the store or to keep our receipts in plain view, these are the innate teachings of black and brown parents to their children: never give anyone a reason to suspect you.
The lessons  were taught without using many words. It was in the way mom would spend all day cooking before a family road trip so that we would have food for the voyage. That wasn't just to save money, although it certainly accomplished that end. It was also because when she was a child pit stops could prove deadly for a black family. They learned to travel at night and keep it moving, stopping only when absolutely necessary. Of course she knew how much times had changed since she was little, but she also knew how much they hadn't.
If you grew up black or brown in this country, you, too, were probably taught in some way to watch your step. You were taught how to smile at people to disarm them and let them know you were one of the "good ones." You were taught the rules of the traffic stop for when (not if) you were pulled over by the cops. Your mother worried that your Afro or dreadlocks might keep you from getting that job you were interviewing for. She might have begged you to press your hair or wear a wig so you didn't stand out as much. They taught you all of this to keep you safe, to make sure you had a chance. As proud and smart and wonderful as they may have been, they still knew that wherever they went, they had to watch their step.
Everywhere, that is, except for the few safe havens where they could be themselves. The barber shop. The front porch or stoop. And, of course, the church.
I always thought the reason African-American church worship is so characteristically uninhibited isn't just due to our inherent "Africanisms" (sorry, Herskovitz), but because everywhere else in American society Black folks have to be so soul-crushingly careful. Not so with God. Where the spirit of the Lord is, there is freedom. Freedom to shout. Freedom to cry. Freedom to dance. Freedom to run. Freedom to speak. Freedom to mourn. Freedom to celebrate. Freedom to be.
And it was only fitting that this freedom would spill outside of the church doors and into the streets of New York City, Montgomery, and Chicago. It was only fitting that it would ring out on the steps of the Lincoln Memorial and reach the doors of the White House. But even as it rang and even as we marched, we would learn that we still needed to watch our step.
Rodney King taught us.
Yusef Hawkins taught us.
Amadou Diallo  taught us.
Sean Bell taught us.
And the lesson continues. It continues on the front porches of private citizens who too quickly assume the worst of someone who comes to them in need of help. It continues on BART train platforms. It continues on the sidewalks of a gated community in Sanford, Florida. It continues in the streets of Ferguson, Missouri.
Trayvon, Oscar, Rekia, Jordan, Renisha, Michael — I'm so sorry. If only teaching you could have saved you.