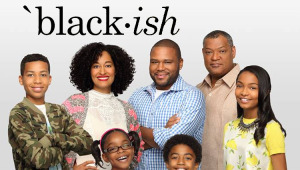 I'm one of the younger members of our Presbytery's Black Presbyterian Caucus, and as such I often get volunteered for things. I don't mind at all because the work is exciting and important. I say that to share the latest thing for which I've been volunteered: a panel discussion on Touré's book, Who's Afraid of Post-Blackness?: What It Means to Be Black Now.  In the book, Touré sets out to take a comprehensive look at what it means to be Black in the 21st century and suggests that, as Dr. Henry Louis Gates, Jr. would put it, "if there are 40 million black Americans, then there are 40 million ways to be black." I certainly agree.
And I think it's wonderful happenstance that I was volunteered for this discussion at the same time ABC would premiere its newest sitcom black-ish, which examines the very same themes. In the pilot episode, we have a successful professional who's trying to reconcile his own idea of blackness with those of his family members — and does so clumsily. I tuned in last night to see how the show would treat the subject and perhaps if it could add anything to our book discussion next month. Here are a few of my immediate thoughts:
I thought the show was witty, and I get that the stereotypes/hyperbole had to be "in-your-face" for our first introduction to the Johnson family. However, I hope that tones down in future episodes — or gets smarter.
When Andre was essentially made the "black representative" for his co-workers and company, it felt painfully familiar. How many of us have been asked how the Black (or Asian, or Hispanic, or gay, or whatever) community feels about XYZ?


Andre @andersonanthony is SVP of the urban division? Uh, I thought @black_ishABC was a comedy. Hell, this is a documentary! #blackishABC

— rolandsmartin (@rolandsmartin) September 25, 2014

The Obama discussion made me realize that my own child has only ever known a black President. Living in a predominantly black neighborhood and having so much exposure to black people of all walks of life, she will likely grow up with the notion that blackness is normative. This was totally not my experience at her age.
Speaking of Obama, Andre strutting through his office and greeting the other black folks who worked there totally reminded me of the day after the President's election.
"Andy's" desire to have a bar mitzvah and change his name reminded me of the time my nephew started telling everyone he was Jewish. When you're five years old, it's hard to argue against the merits of getting presents for eight days during Hanukkah.
And Andy's journey reminds all of us that young black people will have to determine for themselves what blackness means to them. Forty million ways…
Overall, I thought it was a good start to the series and I'm hopeful about its development. That a sitcom would unabashedly tackle the issue of race, culture, and changing norms is compelling. Courage and finesse will be required to do it well.
And with that, let me invite you in the DC area (and those who care to travel) to a book discussion!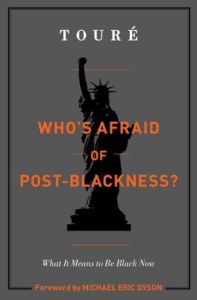 Who's Afraid of Post Blackness?: What it Means to Be Black Now
October 18 –10am to 1pm
Sargent Memorial Presbyterian Church
5109 Nannie Helen Burroughs Avenue. N. E.
Washington, DC 20019 ~ 202-396-1710
Speaker—Dr. Gayraud Wilmore
Presenters also are-Rev. Lakesha Bradshaw & Ms. Denise Anderson
RSVP to Rev. Dr. Elenora Giddings Ivory.