Jeremiah 29:11 has been stalking me. It is the theme scripture for a women's prayer brunch at which I'll be preaching later this fall. Jeremiah 29:4-14 was the focus passage for this year's NEXT Church gathering in Minneapolis. My friend, the Reverend Casey Wait Fitzgerald at Faith and Wonder, who is a gifted biblical storyteller, produced a video for the conference in which she enlisted a slew of folks to tell the story of that passage. Guess which verse Yours Truly was given to recite. Actually, go ahead and look for yourself:
It's a favorite and heavily-quoted passage of scripture, but not everyone is happy about how popular it is.
Many have rightfully and cogently encouraged readers of the Bible to consider the context of this passage before quoting it all willy nilly. In an article published in Relevant Magazine. Thomas Turner of International Justice Mission reminds us that the passage must be understood in the context of community. In other words, God isn't speaking about the journey of an individual, but of an entire community. Oh yeah, let's not forget that pesky 70 years detail mentioned in verse 10. Things might turn out alright, but it would be seven decades before that happened.
The use of Jeremiah 29:11 has even been criticized in internet memes. A few of my favorites: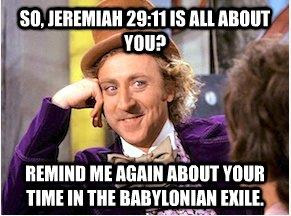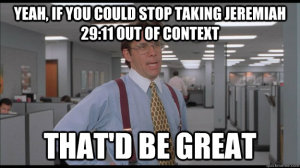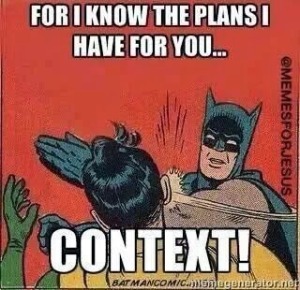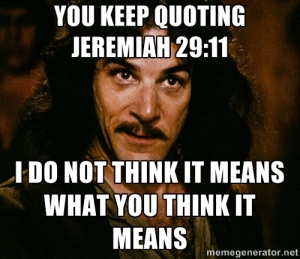 Listen, I get it. As someone who highly values sound biblical exegesis, I totally understand that, for many serious students of the Bible, hearing Jeremiah 29:11 quoted to speak to everything from a job loss to an unexpected illness is like the sound of nails on a chalkboard. I honor the call to contextualization. As a student of Dr. Cain Hope Felder, I'll be the first to tell you that "Text without context is pretext." But I'm also not convinced that this passage can't faithfully be used to encourage someone through a personal (or communal) rough patch.
People who read the Bible for answers, comfort, or reassurance often read it with the intent of seeing into the heart and character of God. What is God like? What would God care about? Would a loving God be concerned about what I'm going through? What situations in the Bible would suggest that God cares?
Reading Jeremiah 29:11 in its context gives you insight not just into the setting of the passage, but into the character of the God who is speaking. It is our tendency to judge future behavior by past behavior. Even as the community in the text was in exile, and even as they would remain in exile for a long time, and even as this exile was largely their own fault, God's intentions toward them were still for good. Perhaps what this suggests to the casual or careful reader is that if God's ultimate plans in that difficulty were for good, then maybe God's ultimate plans their own difficulties and uncomfortable places are for the same. If this is the same God we're talking about, hopefully that same propensity toward restoration is present.
If reading Jeremiah 29:11 helps strengthen you in the face of a recent cancer diagnosis, or it helps you hold onto hope as you face foreclosure, then perhaps that's not the time for me to regurgitate what I learned in Hebrew Bible classes. Perhaps the text is already working as it should. If given the choice between being pastoral and being pedantic in these cases, guess which one I'm going to choose.