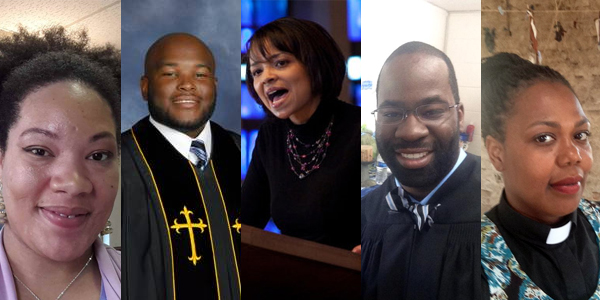 When I started the "Our New Day Begun" series, I never imagined it would take off the way it has. I'm absolutely amazed at how well these stories have been received, though I probably shouldn't be because they're stories that aren't often heard. To give a little background, the series was born out of a joke from one of its participants that, since there were about "five of us" in the whole denomination, we should all be in touch. Of course, that number is understated, but in a denomination that is around 92% white with a median age of around 62, there are a relative few of us. I started to wonder about others who were like me — comparatively young, Black, and still fairly green in their careers — and what their experiences have been. I've learned a number of things:
1. We're all so different. Of course, no grouping of people will ever be monolithic. We all know this. But I was enriched by the variety of our experiences and backgrounds. We have "cradle Presbyterians" who had been raised and heavily-steeped in the tradition, and others who (like me) came to from other denominations and found a home in Presbyterian polity and the Reformed tradition. We have those who are from the Black church tradition (across denominations) and others who are not. We have some who minister in Black churches, some who minister in mostly White or multiracial/multicultural churches, and others who don't minister in a church at all. Some of us went to Presbyterian seminaries, and others of us did not.
2. We're different, but some common threads persist. Even though we profoundly appreciate the tradition, we often find it difficult to see ourselves in it. We want very much for more people of color to be at the table, but we want to avoid tokenism. We see the often subtle ways in which whiteness is preferred in our denomination, ways that the majority perhaps cannot.  We're concerned that the denomination might be too inwardly-focused (and, ostensibly, too Whiteness-focused) and needs to expand its perspective and its outreach. But rather than pull up stakes, we see opportunities to make the denomination more reflective of the Kingdom of God (or at least the United States of America) and deeply want to see those changes through.
3. The PC(USA) should really listen to us. There have been some nuggets of brilliance in this series, and all from a perspective that seems obvious to many of us. I have my favorites:
I also think PCUSA Seminaries really need to examine the white supremacy in their curriculum. Theologians and scholars of color cannot continue to be marginalized in the classrooms and thinking.

The denomination statistically is not diverse and the cost of some events are prohibitive to those that are not solidly middle class and, if those who are socio-economic minorities or racial-ethnic minorities attend conferences that don't know how to handle the diversity of the body of Christ in an authentic way that tackles the hard work of justice and reconciliation, then the likelihood of return is pretty low.

There have been times when I worried that it always seems to be the same voices at many tables and have joked with some that they seem to be thee "young Hispanic male", "young Korean female", "young LGBTQ ruling elder" always called to be a voice at the table. We could probably do better finding more voices and different voices.

The primary father of our shared faith tradition, John Calvin, was a refugee. The tradition was born from faithful Christians escaping persecution. Where is the witness of that spirit in the denominational tradition today?

While it may be argued that there is strength in numbers, it is also true that there is immeasurable fortitude that resides in the margins. That is not to justify marginality, but to acknowledge its value, simply because we who inhabit the margins are valuable—to God, to the world, to the 91.8%, and to ourselves. Or, at least we ought to be.

I've been attending [Howard University School of Divinity] for three years and I haven't seen any PC(USA) tables set up to provide information about us.  We are not going were minorities are to ensure that we can at least hold on to the African American PC(USA) congregations that are fighting to survive.

The denomination seems to have trouble grappling with the idea that it is no longer (or was it ever?) a household name. PCUSA who? PCUSA what? PCUSA why?  I wish I had a nickel for every-time I explained to someone about the PC(USA).

Our denomination can best honor the perspective of its racial/ethnic minorities by bringing to a halt all of the lofty TALK about race in America and a taking the appropriate ACTION to dismantle it in America. The church is microcosm of the country: segregated, isolated and generally afraid to engage the "other" among them.

I also believe the denomination is finding itself in the squeezing place of being called to do more with less. This is a common experience of many African-American household again speaking from my own experience… There are beautiful gifts of having to work with what you have. There is the cultivation capacities to prioritize, to improvise, and to have faith in the providence of God that come out this.

"[Speaking of Princeton Theological Seminary's recruitment efforts] Another way to increase intercultural competence is by diversifying the recruitment plan and reallocating the distribution of resources so more minority applicants can have Princeton as an option for theological study."
By no means is this an exhaustive sampling of the wisdom and passion shared by those who were featured. These sisters and brothers had much insight to share.
4. It can't end here. It became clear to me early on in the series that it simply could not end after February was over. What I would love to do is continue collecting and sharing these stories throughout the year, perhaps not at the frequency we saw this month, but regularly and faithfully. There were many who expressed interest in sharing that I simply could not get to, but they, too, need to be heard. And so I look forward to continuing these efforts in the foreseeable future. It won't end here!
I definitely sense God is doing a new thing, and I sincerely hope you've been blessed and ignited by this series. There is more to come, and for now I will leave you with the portion of James Weldon Johnson's poem and hymn that inspired the name of this series:
…facing the rising sun of our new day begun,
let us march on till victory is won.