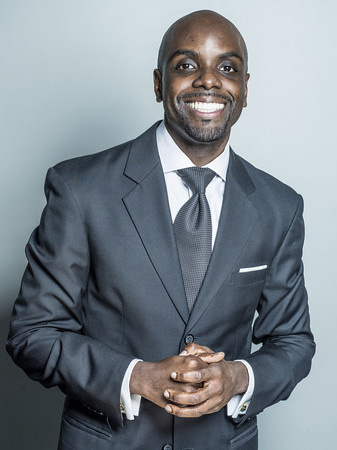 In today's "Our New Day Begun" feature, we meet Brian McCollum. Brian is a Candidate who is certified ready to be examined for ordination, pending a call (hallelujah!). He is not only a graduate of Princeton Theological Seminary, but he is currently its Director of Recruitment. He's a gifted preacher, a talented stepper, and incredibly warm person. And on a personal note, if anyone's ordination is overdue, it's his! Meet him and be blessed!
***************************************************************
Tell us about your spiritual background. Have you always been in the Presbyterian Church (USA)?
I have always been involved in the life of the church, specifically the Presbyterian Church USA. I am a native of Forestville, MD (right outside of Washington, DC) and I grew up attending Sargent Memorial Presbyterian Church. As a teenager, church was more of a social gathering than a spiritual experience. Sargent was blessed to have a very involved and active youth group. In the late 80's / early 90's there seemed to be a sense of loyalty toward denomination so membership retention and growth was never a problem. After high school my personal journey with God began when I started attending Morehouse College. I became a business major because I wanted to make a lot of money after graduation. I started to hear the call to ministry as a student but did not pursue it because I thought God had the wrong number… So I ran from my call. However, I only felt fulfilled when I was doing ministry.
After graduating from Morehouse, I became a Pharmaceutical representative with GlaxoSmithKline in Washington, DC. In 2002, I left Glaxo and joined a non-profit company called Step Afrika! Life started to take a turn when I joined this company. I felt a deeper sense of calling to the ministry and finally answered the call at Princeton Theological Seminary. Princeton changed my life! My whole scope of theology, counseling and worship had expanded to places I never imagined. My faith was no longer a concept that I just talked about but it was a practical reality with real life applications.
Who/what influenced you to seek ordination?
I was blessed to have many mentors during the process of discerning my call. Some are Presbyterian and some are not. They have helped me navigate this awesome call and find my pastoral voice. They are Rev. Juan Guthrie, Rev. James Allen, Rev. Victor Aloyo, Rev. Cleo LaRue, Rev. Joseph Daniels and Rev. Clinton Miller. I thank God for them but I had to save the best for last… my parents Mr. and Mrs. Clarence and Gloria McCollum. They were the first theologians I ever knew.
Tell us about your experiences at Princeton Theological Seminary. What was it like for you?
Princeton Theological Seminary is leading the charge in creating the next generation of leaders in the church, academy and world. I am not just saying that because I work in admissions. I have truly enjoyed my experience at Princeton. It is not a perfect place but we serve a perfect God. I like that Princeton is a place where we can discuss issues that are going on in the community…(women in ministry, homosexuality, social injustice…) Princeton is not afraid to have hard conversations.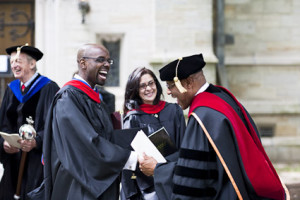 I was challenged academically at Princeton and was also embraced by the entire community (students, faculty and administration) to help create a more inclusive space. I served as the president of the Association of Black Seminarians for two years and I sat on an advisory counsel for the president in reference to diversity issues. I was very involved in the life of the campus. I created a step ministry at Princeton call "North Wind" step ministry. I traveled to Ghana and Liberia to do ministry in an international context. I created wonderful friendship with my peers and faculty members. The faculty members are probably one of the best parts of Princeton… They care about the students engaging in critical thought in every area as future pastors and professors. I love this place!
You recently returned to PTS for work. What are you doing now?
I currently serve as the Director of Recruitment for the seminary. I work with the Dean of Student Life and the Director of Admissions and the Admissions Committee to plan, budget and execute an admissions and recruitment strategy that will meet the seminary's enrollment goals. I also interview applicants and help them discern and navigate their call.
One of the greatest aspects of my job is having the ability to travel and meet new people who want to learn more about God. There is no higher honor than to serve Christ! It is evidence that the future of the church is not lost. I have the pleasure to helping them prepare for their call. It is awesome!
How do you hope to help PTS increase its intercultural competence? How can we do that as a denomination?
At Princeton diversity is not the end goal but having a community that is reflective of God's kingdom is the ultimate goal. I would like to help Princeton reflect God's kingdom by being a voice for the minority and underrepresented populations in the admissions process. Another way to increase intercultural competence is by diversifying the recruitment plan and reallocating the distribution of resources so more minority applicants can have Princeton as an option for theological study. Furthermore I want to also help reconnect of minority alumni with the current seminary community. We all become better when everyone's voice is heard!
As a denomination, we have to do two things better… First we need to do a better job in passing the torch to the next generation. PCUSA could do a better job of preparing the younger members to handle the business of the church. Not just in the role of the pastor but just being in the habit of grooming church leaders in our young people. (Christian educators, Sunday school teachers, Bible study leaders, Elders, etc…) We need to start helping individuals identify their gifts and place them in positions where they will thrive.
The second part of this answer is finding a balance between tradition and innovation. Tradition is great and has helped us get where we are today. However, in order to reach the Post-Modern Generation we must balance that tradition with innovation. My grandmother always said, "You gotta catch a fish before you can clean it!" We have to catch the youth and if we don't catch them we will lose them. Since God is always being and becoming, we need to always be reforming to stay relevant to the world around us.
However, being in admissions, I have hope that God is up to something. There are some amazing individuals who are preparing themselves to serve God in a mighty way.
Because it's enormously cool, tell us about Step Afrika! and your time with that company.
Step Afrika! is the first professional dance company dedicated to fraternity and sorority stepping. I joined the company in 2002 and had the opportunity to travel to over 30 countries with the group. I have performed for thousands of young people, actors, models presidents, Kings and Queens. I have been in movies, music videos and commercials. I have been featured in many documentaries, articles and YouTube videos in reference to stepping.
It was in Step Afrika! that I embraced my call to ministry while on a trip to South Africa. It was also in Step Afrika! that I realized my true love in life which is the intersection of religion and education. Both of these aspects have shaped me into the person that I am today. With that being said my ultimate goal in life is to change the world via leading a Historical Black College or University (HBCU) as a president.
Is there anything else you'd like to share or offer as food for thought?
I have changed from a life of running from my call to a life of running to my call. There is hope for the future of the church and that hope is built on nothing less than Jesus blood and righteousness; I dare not trust the sweetest frame but wholly lean on Jesus name! On Christ the solid rock I stand, ALL other ground is sinking sand!
Shalom