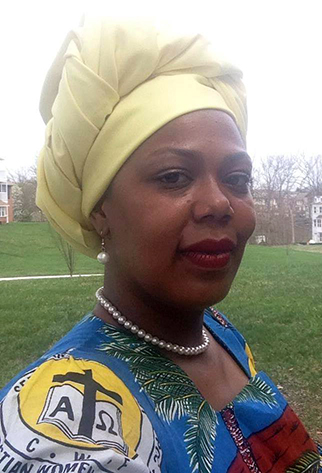 The person I'm introducing in today's edition of "Our New Day Begun" is a dear friend and one of my favorite people. The Reverend Lakesha Bradshaw and I were classmates at Howard University School of Divinity and came to the Presbyterian Church (USA) at about the same time and with the support of many of the same people. She is a minister member of National Capital Presbytery and is the Associate Pastor for Christian Education at Silver Spring Presbyterian Church, where she served as a DCE before ordination. I'm honored to present her to you!
***************************************************************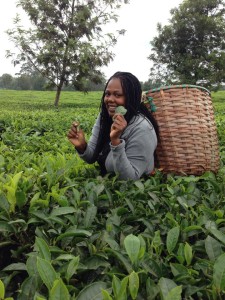 When did you come to the Presbyterian Church (USA)?
I came to the PC(USA) in 2005, as a part-time Youth Director. At that time, I was completing my second year of seminary and looking to supplement the additional expenses. A mentor told me about a Presbyterian congregation in DC that was searching for a part-time Youth Director. I interviewed and was offered the position, and as they say, "the rest is history".
Ministry is a second career for you. What did you do before?
Prior to professional ministry, I directed youth and young adult service programs for large organizations such as the Boys and Girls Club, YMCA, and Howard University. My experience programming after-school, summer camp, and countless youth leadership and development programs encouraged a purposeful transition into youth and young adult ministry. If you are interested in pursuing a career as a minister, then you may want to consider applying to a christian college online, as not all of us can commute, or live near enough to study at a brick and mortar.
Tell me about your time at Howard University School of Divinity. How did it influence you?
My time at Howard University School of Divinity is something I will always cherish. I began seminary with one goal, to learn as much as I could. I innately knew there was more to Christianity than the dogma, hypocrisy, and sexism I experienced in my formative years. The God of my understanding has always been expansive, inclusive, and unable to fit into societal boxes. At HUSD, I was given the academic freedom to challenge and study how the widespread misuse of religious ideas and constructs may result in oppression and spiritual abuse, particularly of women and children.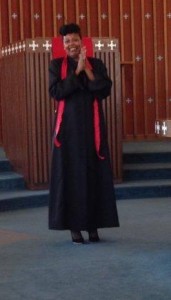 Talk about Silver Spring Presbyterian Church and what makes it remarkable. What is your role there?
Silver Spring Presbyterian Church has been recently noted as "one of the fastest growing" congregations in the PCUSA. Considering the steady decline in congregational membership across the country, some may think that is remarkable. However, I believe what makes Silver Spring remarkable is the ability of its members to adapt and transition in the midst of change.
In its sixty plus years, the congregation has not only survived but thrived despite such challenges as clergy misconduct, shifting neighborhood demographics, devastating termite infestation, consistent shifting of the culture and or ethnicity of its members. Through it all, the members of Silver Spring Presbyterian Church focused on being a Spirit-lifting place, active in social justice and partnering with the surrounding community in service.
In my role as Associate Pastor for Christian Education, it is my great joy to ensure that Silver Spring also focus considerable energy on including its children, youth, and young adults in all aspects of congregational life. The youth serve as worship leaders and are effective in community outreach.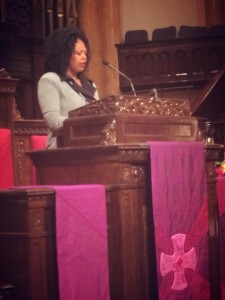 What do you like about this denomination? What would you like to improve about it?
I like the connectionalism of the PCUSA, I like that no matter where I am in the country, I can visit a PCUSA congregation and find elements of the worship service that are familiar. I would like for the church to improve its branding and promotion. The denomination seems to have trouble grappling with the idea that it is no longer (or was it ever?) a household name. PCUSA who? PCUSA what? PCUSA why? I wish I had a nickel for every-time I explained to someone about the PC(USA).
How can we encourage more young African-Americans to seek leadership roles in our churches?
I think we encourage more African American leaders by seeking them where they are–in African-American communities and institutions like Howard University School of Divinity. We must make an intentional effort to go where they are and invite them to partner in the life of God's church.