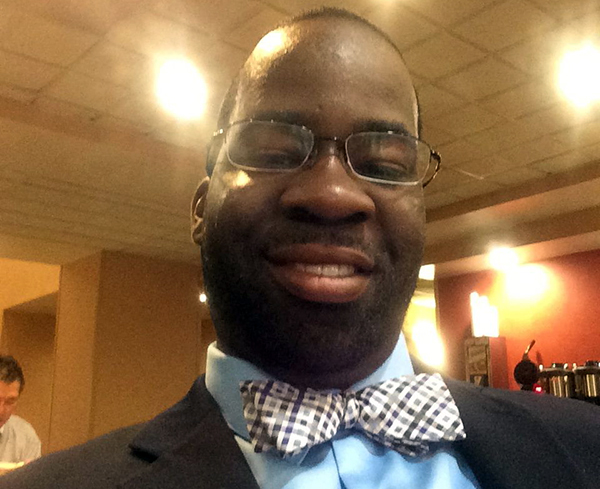 Today in "Our New Day Begun," I want to introduce you to my friend, Terrence Benn. Terrence is a 34-year-old Inquirer in the Baltimore Presbytery and a student at Howard University School of Divinity. He and I connected about a year and a half ago when he found an old blog post I wrote about passing my ordination exams and being certified call-ready. Since we're both Black, Presbyterian, and products of HUSD, we needed to be in touch! His experiences and perspective are similar to mine and to those of many young Black Presbyterians I come across. Let's hear from him and wish him well in the ordination process!
***************************************************************
Tell us about your religious background.
I received Christ and was baptized missionary Baptist at First Baptist Church West Munden at the age of 10.  I was an active member of the church until I graduated high school, and joined the military.  It was not until I got out of the military and moved to Atlanta, Ga that I began to search for more.  The big question that I had was, how was I missionary Baptist, and no one was engaged in any mission work home or abroad.  I just did not understand. While in Atlanta, I attended all types if worship services and enjoy them all.  I moved to Baltimore and returned to a local Baptist church and continued worship in the space that was familiar to me.  It was familiar until I decided to acknowledge and pursue, what I believe God was calling me to do.
When did you come to the Presbyterian Church (USA) and who/what influenced that decision?
Me finding the Presbyterian Church (USA) was not intentional at all.  I wasn't raised Presbyterian nor did I know a lot about it's traditions.  What I did know was that I was in need of a mentor who had time to invest in me.  I was not looking to be a groupie nor was I looking to be subservient to anyone.  So, I did one of those Facebook surveys that asked a series of questions, and then offer a list of denominations that fit the answers that I gave.   I think Presbyterian (USA) was second.
I Googled "black PC (USA) congregations in Baltimore" and saw a list of churches.  I emailed Rev. Dr. J Thomas, who was the Pastor of Madison Ave, and told him that I was interested in learning more about the denomination. He invited me to attend a worship service, which I enjoyed.  Rev Thomas took the time to impart his experiences as a Baptist who joined the PC (USA) church.  He also met with me monthly to monitor my progress with school, and discerning my call.  I felt as if both the church and the pastor had time to invest in me. I also felt that God led me there!  After spending time learning the culture of the church, I joined, six months later; I was under care of the session – working to discern my call!
I'll ask you a question I have often gotten: Why did you choose Howard University School of Divinity?
Choosing Howard University School of Divinity was easy!  Many people don't know that Howard University was created to educate teachers and preacher!  So the question I would ask is, why not Howard University School of Divinity? As an African American, I think that it is important to understand how hegemony impacts how we are taught.  If I am going to preach the gospel, I wanted to understand how this gospel that my grandmother loved so, was used to harm her mother's mother! At HUSD, History of the Black Church and Introduction to Christianity are required courses, unlike other institutions, which only require that students take Introduction to Christianity. It shouldn't be a choice to study how slavery affected people that you want to preach and teach.
If I wanted to be an Afrocentric socially conscious preacher, I knew that I had to spend some time on the East Campus!  And I will tell you that I am damn glad that I did.  For HUSD has shown me that Jesus was always on the margins, and if I want my ministry to be successful, I too have to be there!
What do you hope to do in ministry once you've completed the ordination process?When I first started the process, I wanted to be a military chaplain.  I thought that since I served in the Marine Corps and am currently in law enforcement, I would be more effective.  That may not be the case anymore.  I was exposed to parish ministry while completing my field education requirements and I love it. I think being there for your parishioners while they are experiencing their ups and downs is how we can truly see the gospel come to life.
I believe that there is a need for Pastors who have time and a heart for their members.  I think parish ministry is about meeting people where they are and showing your parishioners that they are only as strong as the community that comprise their church.
How do you think your perspective can enrich the denomination?
I look at the church and I see great potential!  I see people with rich history and traditions that are comfortable in their space.  I bring years of community involvement and ideas that will get the community that comprise the church engaged.  I bring the lens of an African American that is not looking for money to be thrown at problems, but real ecclesiastical thought and involvement to address our community concerns.  I bring Hope to a community that thinks the church has given up on them!
What can we do to encourage and empower other young people of color to assume positions of leadership in the PC(USA)?
I've been attending HUSD for three years and I haven't seen any PC (USA) tables setup to provide information about us.  We are not going were minorities are to ensure that we can at least hold on to the African American PC (USA) congregations that are fighting to survive.  We have to have the same type of mentors that I had when I stumbled upon PC (USA) 3 years ago.  We also have to go into the community and share what makes up different then other denominations.   We have an ordination track that provides mentorship throughout the process, and a style of government that encourages community.