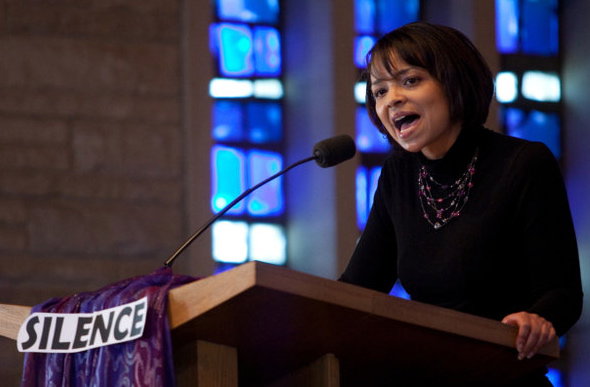 I'm happy to kick off the "Our New Day Begun" series by featuring the Reverend Kerri Allen. Kerri is a PC(USA) Teaching Elder and a native of Saint Paul, Minnesota. She has served in parish ministry previously and is now in a Ph.D. program at Garrett-Evangelical Theological Seminary in Chicago (see below for more details on what she's studying). Kerri has brought the fire in this interview, and I cannot wait for you to get to know her. Enjoy and learn!
***************************************************************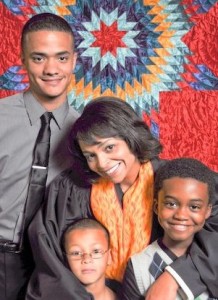 How long have you been Presbyterian?
About 15 years. I accidentally found my way into a Presbyterian church, and I have been Presbyterian ever since. Growing up in Minnesota with a black mother and white father, our family was not welcomed in any Christian churches, and so we grew up in the Unitarian Universalist tradition. This is where we found a church community. We were Christian in other spheres of life. My siblings and I were baptized by a Missouri Synod Lutheran pastor and raised in Catholic school. I joke that being Presbyterian was somewhere in the "middle" of these various religious traditions.
What do you most appreciate about this tradition?
Being Presbyterian encompasses two traditions for me: the Reformed theological tradition and Presbyterian polity. I find myself embracing Reformed theology because of the rich theological diversity that exists within the history of the global Reformed Church. For me, the Reformed tradition has overarching themes that thread it together, but within the details there are have historically been many thoughts.
Presbyterian polity, at its best, is about mutual accountability. After a first career in politics, primarily serving as a political appointee in legislative bodies, I've found being Presbyterian to be the right "fit" for me.
What led you to pursue ordination as a Teaching Elder?
I was called. I spent years ignoring the call and even "debating" God about the absurdity of being a clergywoman (particularly at the time having a career in secular politics). God tried the small still voice, gentle approach, and eventually She just hit me upside with a 2×4, and I went to seminary. While at Louisville Seminary I was able to see the providential path of my life-long desire and pursuit to live in a more just world within the context of the Reformed Tradition.
When I went to seminary, I was still discerning (or so I told myself) about ordination as a Minister of Word and Sacrament. Seminary was an amazing and difficult time for me. The first week of seminary, my nephew was murdered, and less than a year later, my mother died after extended illness. I remained in seminary during these darkest days of my life because I was upheld and affirmed by my community. My discernment came through the experience of understanding the power of call as a path that we do not walk on our own, but one that is done in the midst of the witness of the saints. At each difficult step, when I received affirmation of my gifts and skills for pastoral ministry, I knew I was on the right path.
Tell us about your Ph.D. work. What are you studying?
Born, in part, from that painful personal experience of losing my mother after she was diagnosed and treated for cancer that she did not have, I am pursuing a Ph.D. in Theology at Garrett-Evangelical Theological Seminary. The focus of my project is on the health disparities of black women in our quality of care.
I came to Garrett to work with Reformed (United Church of Christ) Theologian, Dr. Stephen Ray. I am a Christian theologian who embraces the nuance of the Reformed tradition, and it was important to me to work with someone who is Black and Reformed.
As my work unfolds, I see how this particular issue I am studying is part and parcel of racism within a larger structural framework. It is rooted in how black women and our bodies are viewed within the context of whiteness. I could talk all day about these implications, but suffice it to say that my study is about structural racism and violence and the history that upholds and sustains these systems. Our religious tradition (Reformed and Presbyterian) has a history of being complicit in this sinful narrative.
What is the racial/ethnic composition of the churches you've served?
I have served two white churches. I was ordained to a call as a Lilly Resident at the Fourth Presbyterian Church of Chicago. Following my residency, as I began my Ph.D. studies I served at a church with maybe a handful of people of color. After preaching a sermon about the injustice of the Zimmerman verdict, a few people in the congregation were up in arms about my sermon. In response, a Ruling Elder told me to my face that she hated the black race. The leadership of the church blamed my sermon. In the words of Sweet Brown, "Ain't nobody got time for that." I left that congregation and in addition to my Ph.D. studies; I serve as a hospital chaplain.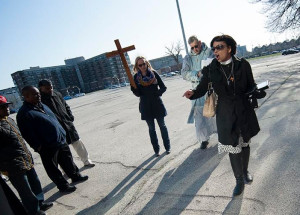 What do you think the PC(USA) needs to understand about Black Presbyterians and Black Presbyterian churches?
I don't think the denomination can understand anything without confessing the sin of racism. The Presbyterian tradition in the United States has a long history of active participation in the oppression and marginalization of black bodies, as well as ongoing complicity in structural racism. The societal events of the last year and the recent missteps of the PCUSA Special Offerings Campaign underscores the need for theological reflection and conversation before we can even begin to address these practical questions. It will be very telling to see what happens with the Belhar Confession in our presbyteries in the coming months. I believe that adoption of Belhar is a matter of status confessionis (confession and public protest of the strongest kind is necessary).
I am not from the Black Church Tradition so I am always cautious about commenting on the Black Church, but I will say that there needs to be some reconciliation within the denomination about the role that reunification played in diminishing the Black Presbyterian Church.
How can we encourage more young African-Americans to seek leadership roles in our churches?
Similar to the answer above, I would love to see more young black people involved in the church, but it needs to move beyond "tokenism." People have to prepare to hear, see, and experience things that are different. AND understand the validity of this diversity within the context of the PCUSA as one body in the Reformed Church. Our youth should be invited to participate in roles at all levels of governance within the denomination and we should be actively working on addressing the other issues that I discussed so that young people are welcomed in the church.
Is there anything else you'd like to share or offer as food for thought?
One of the things that us clergy/church types love to talk/blog/social media about is the "dying church." Everyone seems to have some opinion on why the church is dying and for every opinion on that, there are three thoughts on how to "fix" it. Does anyone ever stop and think that maybe we are killing the church? Maybe we deserve to die?
The PCUSA remains a congregation that is over 90% white and in reality or perception maintaining multiple levels of privilege. This is not a reflection of the United States. So why is the "church reformed always being reformed" grasping so hard to a reality that no longer exists?
The primary father of our shared faith tradition, John Calvin, was a refugee. The tradition was born from faithful Christians escaping persecution. Where is the witness of that spirit in the denominational tradition today?
More importantly, if we are not being the Church of Jesus Christ in the complex and uncomfortable ways that come with discipleship, why should we (denomination) survive?