?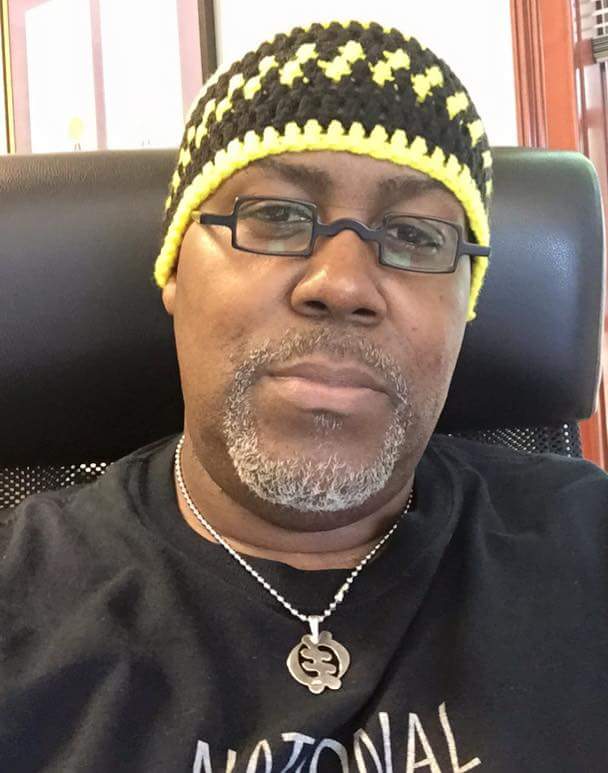 In today's edition of Our New Day Begun, we hear from Carlton D. Johnson. Carlton is a graduate of Johnson C. Smith Theological Seminary — an historically black Presbyterian seminary — and currently serves as its Adminsitrative Officer. He's a Candidate under care in the Presbytery of Greater Atlanta, an active member of First Afrikan Presbyterian Church in Lithonia, and is studying for his ThM with a concentration in homiletics at Candler School of Theology at Emory University. With all he has on his plate, I'm honored he took the time to participate in this series! Carlton is a dedicated servant and definitely someone you'll want to get to know. I'm thankful for his witness and his friendship.
You've spent some time in other Christian traditions before coming to the PC(USA). Tell us about your experiences.
I was raised in an inner city African American Baptist church. By age 5, I was a choir member. Music is seen as integral and common to the African American church experience; yet, it was more so at our church; the pastor's daughters were members of the famous Hawkins Singers groups of the 70s-90s. By age 16, I was a choir director and touring with Edwin Hawkins on trumpet. At age 20, I took my first "job" as a minister of music. My relationship with Christ was built foremost through the music of the church. The lyrics of the hymns and gospel music were my creeds and confessions; they were the foundations of my faith. I observed that many of these songs formed the foundation of sermons both in selected "text" and in the closing celebration. Hence, my introduction to my current course of study (homiletics) was far less about painting the picture of the text and creating a world in which listeners might pursue the will of God…and more about identifying the appropriate moment to invoke musicality in my preaching voice (and in key). I was also introduced to church governance and finance at an early age. I was the church financial secretary at 24 and treasurer at 26. Notwithstanding these roles, I was also a trustee. Click here to learn more about being a trustee and what that role entails.
Share with us about First Afrikan Presbyterian Church. What drew you to it? What would you like us to know about this unique congregation?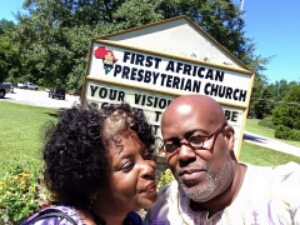 Though leadership in music ministry led me to other congregations, I only strayed away from the Baptist church once, as a choir director for a Pentecostal congregation. In my first year of seminary, I sought to learn what it actually "meant" to be Baptist. I also researched and learned of other denominations (and faith practices). I had only recently returned to regular church attendance after a 2 year hiatus; I had witnessed one-too-many events of the church abandoning people when they needed them most…and one-too-many cases of communities taking a back seat to the greed of a pastor. As I entered seminary, I needed to marry my awareness and newly acquired understanding of what it meant to be Black and Christian to my church membership and regular practice of my faith. I met Rev Dr Mark Lomax and first attended the First Afrikan Church in the winter of that year (2009). Through Rev. Dr. Lomax's teaching and that of the ministries of the First Afrikan Church, immediately, I was propelled to a deeper understanding of the Gospel as the redemptive purpose of God, designed to liberate the oppressed and set the captive free. Between seminary and weekly bible study, I was able to see how the bible had been (and still is) used as a tool of oppression.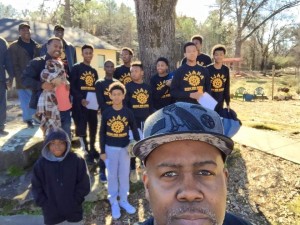 Our mission statement is "The First Afrikan Church is an Africentric Christian Ministry that empowers women, men youth and children to move from membership to leadership in the church, community and the world." First Afrikan allowed me a space and functioning ministries to affirm liberation as the will of God and to commit to the removal of forms of oppression and injustice in the community and world around me. Consistent with the reformation ideals of the Presbyterian Church (USA), FAC deploys its leaders to participate in community justice activities. I also found a home in the music ministry of FAC and in youth ministry and mentorship.
You are the Administrative Officer for Johnson C. Smith Theological Seminary. What does that entail?
The easiest way to answer that question is to share a few major bullets from my job description (posted below). However, the short answer is that I bring function and fruition to the brilliant ideas of our president, faculty, and staff.
Ensure project planning and management that maximizes JCSTS resource allocation and minimizes resource overlaps. Utilizing software such as https://www.prosymmetry.com/features/resource-forecasting/ for added benefit.
Gather and analyze financial, administrative, and other resource data related to scheduled projects
Oversee resource scheduling, coordinating meeting logistics, purchasing and processing of payments and reimbursements as related to scheduled projects
Manage project and departmental budgets, including funds that support research, training, and administration
Participate in management activities, including maintenance of standard operating procedures (SOPs), participation in internal work groups, and performance management
Support JCSTS communication efforts, as needed, including quarterly newsletters, writing content for institution website, making editorial decisions, and posting content to feature items of strategic importance to the institution and its constituents
Draft and update content for the JCSTS website, social media accounts and outreach collateral
Develop and maintain the JCSTS personnel policy manual
Participate in implementation of the human resources policies, procedures and practices including the development of job descriptions for all staff.
Maintains regular contact with the JCSTS Board of Trustees and Committees.
Ensures that the JCSTS Board of Trustees and Committees is informed and engaged.
Johnson C. Smith Theological Seminary has experienced a great deal of transition recently. Tell us about that and the Seminary's hopes for its future.
In 2014, amid dramatic shifts in the leadership needs of the Church, JCSTS disaffiliated from the Interdenominational Theological Center in Atlanta. The ITC had been its home since 1969. JCSTS has since focused on delivering theological education that is more affordable, increasingly relevant for a changing world, contextual, and global in perspective. It is our mission to provide innovative theological education to advance communities of faith, justice, and compassion.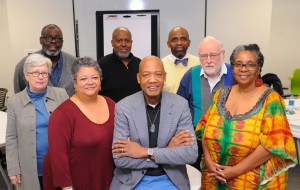 If the above sounds familiar, it is primarily from our website, goals, values, and mission statement, all of which I have been instrumental in developing.
With a seven member staff, we have grown tremendously in the eighteen months since our departure. In November 2015, we launched our first Sacred Formations webinar event; our second will launch in February 2016. Our certificate program will launch in the Fall of 2016. We are working diligently as we look forward to what God is doing through us. We truly believe that we are "…called to CREATE what's next"
What do you most appreciate about our tradition? Where do you think we could stand to change/improve?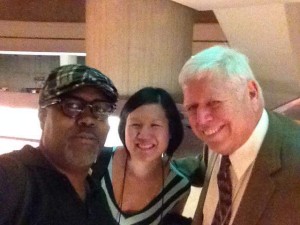 I most appreciate the PCUSA's interest in matters of social justice, both locally and around the world. I most appreciate this because I believe it to be consistent with the primary interest of the God of the Oppressed and Jesus the Christ who was very clear of his call "to bring good news to the poor. [For God] has sent me to proclaim release to the captives and recovery of sight to the blind, to let the oppressed go free"