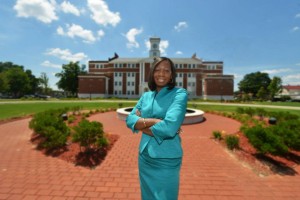 On today's Our New Day Begun, we meet Dr. Perzavia Praylow, history professor and Candidate under care of Trinity Presbytery. Currently in her last year of seminary, she is serving as supply pastor at Calvary Presbyterian Church in Winnsboro, SC and as a 1001 New Worshipping Communities intern. Perzavia's background and journey to ministry are incredibly intriguing, and I guarantee that if you don't already know her, you will — and soon. She's making moves!
---
You spent time in other Christian traditions. Tell us about your religious background and what led you to the PC(USA).
My roots stretch from the sky line of New Jersey where I was born to the Sea Islands of South, Carolina where my family originated. Both my faith journey and my education journey have been and continue to be two sides of the same coin. My faith journey begins in my early years as an undergraduate at Drew University—a small United Methodist college in Madison, NJ. My years as a student at Drew shaped my faith. Through campus ministry activities, mission trips to Honduras, study abroad to Ireland and Ghana, fellowshipping with faculty and students from Drew's Theological School in the "Seminary Café," I experienced God's presence in my educational community at Drew.
My sense of call has been nurtured and shaped in church community with God's people. From the moment that I formerly accepted Christ as my savior I have always been a member of a faith community. During my college years, my church home was Calvary Baptist Church in Morristown, NJ. I was baptized at Calvary, a weekly participant of Sunday school and Wednesday Bible study and an organizer of our church's campus ministry. Calvary was the church that nurtured me in the foundations of my faith. During my graduate doctoral study at The University of Illinois, I was a member of The Church of the Living God. During my nine years as a member at this church, my faith was lived out a lot by "doing" as I came to understand the gifts that God has given me for Christian service. I also accepted my call into the ministry. As a result, I was licensed and ordained as a minister and elder in The Church of The Living God. I served as an associate minister at The Church of the Living God for seven years. I came to believe strongly in the church and the transformation of people through the love of Christ and participation in the gathered community of the Christian church.
After graduating from The University of Illinois, I began teaching at Augusta State University in Augusta, GA. I have come to see teaching with college students and young adults as an important way that I could live out my call. Outside of the classroom, my time in the south thus far has also been driven by a desire to serve God through the ministries of the local church. During my first year in Augusta, I was an associate minister at a historic Baptist church. During my time of service in that faith community, I began to discern that God was reshaping my call to ministry leading me to pursue theological education.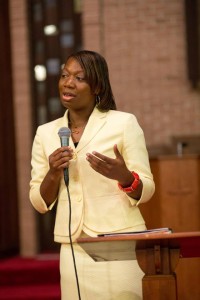 My reshaping process caused me to seek out seminaries in the greater Atlanta area. I began seminary at Columbia Seminary. My reshaping for ministry continued as I discerned that God was calling me to pursue candidacy for the ministry of Teaching Elder within the PC(USA). I have been a member New Faith Presbyterian Church since the start of my seminary journey. During my first few months at New Faith, I discerned a call to ordered ministry in the PC(USA) and began the process of becoming an inquirer.
After much prayer, I was led to pursue ordered ministry within the PC(USA) because of the possibilities for service in ministry in relation to my gifts including pastoral/congregational ministry, campus/ministry, new church development and teaching, research and service within PC(USA) related undergraduate and theological education. As I continue along my candidacy and seminary journey, I excited about the possibilities for service within both the local and broader church beyond my seminary studies.
Tell us about where you are in the ordination process and where you're currently serving.
Currently, I am in my senior year of M.DIV studies as a student at Columbia Theological Seminary. I expect to graduate at the end of the Spring 2016 semester. I am currently a candidate for the ministry of Teaching Elder under Care of Trinity Presbytery located in South Carolina. My home church and congregation of care is New Faith Presbyterian Church. I'm excited that I've have successfully passed ordination exams and I'm currently preparing for my final examination related to candidacy. My candidacy process has been and continues to be a journey of growth and formation for ministry unto God within the PC(USA). I have been humbled by the support that I have received from my home congregation and Presbytery of care, the faculty and staff at Columbia seminary and from other teaching and ruling elders throughout the church.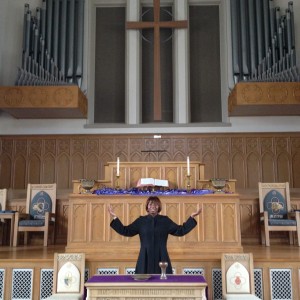 Currently, while completing final requirements for theological study at Columbia Seminary, I am serving in a new call as the Temporary Supply Pastor of Calvary Presbyterian Church in Winnsboro, S.C. Calvary Presbyterian Church is a small and growing historic Presbyterian Church that is demographically African American. Calvary Presbyterian Church was founded in 1867 shortly after the Civil War. Calvary Presbyterian Church has a rich history of helping to support the development of schools and others churches throughout the greater Winnsboro community coupled with a history of community impact and outreach. I'm grateful to serve and journey alongside of this faith community during this season of transition and growth. I look forward to growing in my pastoral ministry as I continue to learn more about the heritage and ministry contributions of African American Presbyterians within the ministry context of Calvary Presbyterian Church.
In addition, besides my pastoral ministry at Calvary Presbyterian Church, I am currently serving as a 1001 New Worshiping Community Intern where I am engaging a new missional ministry endeavor in the great Columbia, S.C. region. I am grateful to be part of a cohort of interns who are each pursing new missional endeavors within contexts across the country. My training as a 1001 New Worshiping Community intern has been an important experience related to my discernment for ministry service. To read more about the work of the 1001 New Worshiping Community interns please visit this website: http://www.onethousandone.org/#!2015-interns/c1d5m.
In addition to your service to the church, you have a career in education. Tell us about that.
During my freshmen year of undergraduate studies at Drew University in New Jersey, I was enrolled in an African American history course that focused on the history of the Black experience in the United States from Reconstruction to the present. In that course, my first history paper compared and contrasted the educational philosophies of Booker T Washington and W.E.B. Du Bois. From that very moment, I became intrigued about the history of African American education and how education was used as a tool of race uplift. In addition, as a student at a Christian liberal arts college, my life and aspirations were deeply impacted by one of my professors –Dr. Lillie Johnson Edwards– who taught African American history. I majored in everything that Dr. Edwards had to teach. Dr. Edwards is a dynamic educator who embraced her role as a college educator. She truly believed that to teach is to touch lives forever. She both inspired my interests in African American educational history and introduced me to undergraduate education as a viable career option.
My intellectual interests in history and the transforming impact of the vocation of teaching on my career aspirations inspired me to enroll in graduate studies at The University of Illinois where I completed a Ph.D in History and a Master of Arts degree in educational policy. Throughout my graduate course work, I developed interests in southern African American history, the history of education, twentieth century race relations and the history of the Christian church in social movements in the United States. My graduate studies in history also made me passionate about using historical knowledge as a tool for social justice. I firmly believe that we can't began the important work and ministry of social justice and racial reconciliation if we don't understand our past. Sankofa is a Ghanaian cultural symbol and concept which means to understand our present and to move forward into our future, we must look backwards and learn lessons from our past. As a result, we then can use the lessons from our past as a foundation for transformative living in our present and our future. I use Sankofa as a principle that shapes my ministry as a historian, a writer and an educator.
Since I was a freshman in college at Drew University, my dream has always been to be a college professor. I believe that will always be part of my call. In the middle of a tenure track teaching career at a four year intuition, I took the road less traveled and went to seminary. I've been on this amazing journey of discerning and pursing God's ministry within and between the space of the church, academy and local community. I look forward to seeing how God will continue to navigate my paths between and beyond these spaces and places of service in the future.
At this present moment, I'm enjoying serving in pastoral ministry while learning from and continuing to be formed by the ministry of teaching as a part-time history professor at Benedict College –a historically Black private and Christian affiliated college in Columbia, S.C. My previous teaching career included employment in diverse public colleges and universities including The University of Illinois Urbana-Champaign, Parkland Community College and Augusta State University. My experiences in the last few months at Benedict College have introduced me to the ranging of possibilities of teaching at Historically Black colleges and university. My student come from all over South Carolina, the United States, the Black Diaspora and other countries. I believe that my experiences as a college educator will continue to be part of my ministry to service to God's church. Related to this, I find that I continually embrace opportunities that promote diversity and inclusion in higher education institutions ensuring that all people have access to higher education. I also believe in the importance of using teaching of history to prepare students to interact with others in our diverse society beyond their college experiences. Regardless of the context of ministry service, I believe that teaching young adults will be related to my service to the church.
What do you most appreciate about our tradition? What do you think needs to change?
What I appreciate most about our denomination and our tradition is that we are connectional. My candidacy processed has been deeply enrichment by opportunities to serve in numerous contexts throughout the broader church. Besides participating in the ministry endeavors of my seminary, Presbytery and congregation of care, I've served in other contexts. I've had opportunities serve as a supply preacher in congregations throughout Georgia and North and South Carolina. I've participated in conferences at Montreat and other PC(USA) related national ministry conferences which have exposed me to our broader denomination. After my first year of seminary, I served as a student assistant at the 2014 General Assembly which was a deeply impactful experience for me. I left that General Assembly with appreciating the roles of committees and councils in helping our denomination to live out our call to be a witness for Christ. Yes, I like committee work!!! Currently, I am serving as an advisor on the committee charged with revising our Book of Common Worship. Considering that I did not grow up in a Presbyterian church and that my journey into ministry within the PC(USA) began when I started seminary, all of these experiences have been essential in helping me to serve within the broader church as a result of connectional ministry endeavors.
How would you say our denomination is enriched by Black Presbyterians?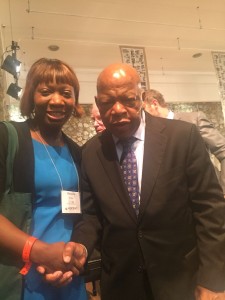 Our denomination is enriched deeply by the historic contributions of Black Presbyterians. In particular, even before I became a member of a Presbyterian church or attended a Presbyterian seminary, I developed an interest in the social and civil contributions of Black Presbyterians in the development of our nation, particularly in the southern United States. In particular, given the rich history of the Presbyterian Church in developing schools in the South after the Civil War, many African American educators were first educated in Presbyterian related mission schools. Mrs. Lucy Craft Laney and Dr. Mary McLeod Bethune were students in Presbyterian mission schools and developed schools and colleges for the education of Black youth. Black Presbyterians have made and continue make contributions in the life our church at all levels and in numerous roles throughout the church. In addition, many Black Presbyterians have joined their brothers and sisters in Christ throughout our denomination in serving alongside others active in movements for social justice both within our church and the larger society throughout our nation's history. In particular, the contributions of Presbyterians during the Civil Rights movement campaigns of the 1960's and 1970's have challenged our church to explore the relationship between our faith and movements for peace and justice both within and outside of our denomination that continue to this day.
Is there anything else you'd like to share.
My journey into candidacy within the PC(USA) has inspired a deep appreciation for and exploration of the historic development of the Presbyterian Church and African American religious history. Also, in many ways, regardless of where my call into pastoral and congregational ministry will lead, I will always be interested in our how the history of the our Church informs our current praxis for ministry both at the national level and at the level of the local congregation. Further, within my current context as Temporary Supply Pastor of Calvary Presbyterian Church, I am interested in exploring how the rich congregational history of Calvary can be used as an equipping tool for transformative ministry. As I journey alongside of and with this faith community, together we are discerning and living into a new reality of ministry shaped by the historic context and missional ministry endeavors of Calvary's past. In a similar vein, as historically and predominantly Black congregations continue to discern what it means to be both Black and Presbyterian in today's context, I am interested, both as a historian and a practical theologian, in journey alongside of historic African American congregations discerning transformation and congregational redevelopment. In the meantime, I value learning from my continuing ministry experience serving in a historically, Black, Reformed, southern and rural congregation.
I'm so very excited about my call to serve God through ministry endeavors within the PC(USA). I remain humbled by the support I received throughout my formation for ministry and look forward to living into new narratives of ministry and service that bear witness to the transforming love of Christ.