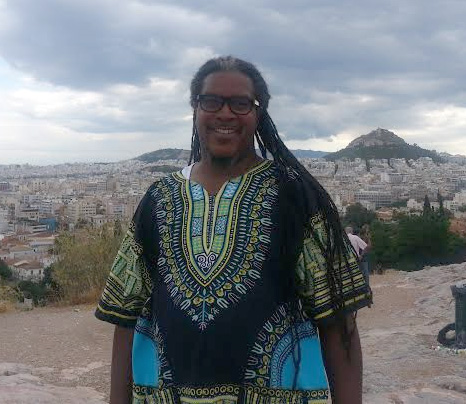 In our final edition of this year's Our New Day Begun, I am so honored and excited to present Eric Thomas. Eric is a DCE in Brooklyn, progressing through the ordination process, and pursuing a PhD. He's also a writer and presenter par excellence, and we are blessed to hear from him.
---
Tell us about your ministry. What are you currently doing?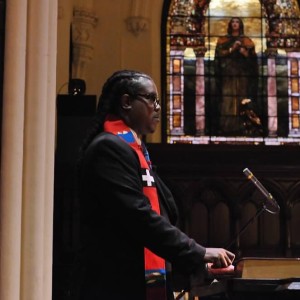 I am the Director of Christian Education at First Presbyterian Church of Brooklyn (FPC) and am in my third year of study toward the PhD in Biblical Studies and Early Christianity at Drew University in Madison, NJ. I'm also a Candidate for Ministry in the PC (USA). In both my church and academic work I advocate for people to honor their lived experiences in the process of making meaning of biblical texts, their own theologies, and the implications for the practice of their faith. This process takes on significant depth (in my opinion) when the experiences of women, racial-ethnicities, the spectrum of identities, sexualities, and physical abilities are taken seriously. In my academic work, the study takes the form of hermeneutics or the many lenses through which we can interpret texts. In my church work, being able to listen to each other's stories reinforces that we are on different paths and parts of our Christian journey. The fact that we choose to journey together strengthens our awareness of being part of the body of Christ and agents of God's justice. We've just completed a four-session series called "First Talks Race" where the members asked each other tough questions and listened to difficult answers especially having to do with privilege (white and otherwise). We brought these reflections into our current exploration of "The Beatitudes NOW" during the Lenten season.
You have a background in marketing and the arts. Tell us about that and how (if at all) it informs your ministry.
In most of the arts organizations I've worked with (including Alvin Ailey American Dance Theater, Lincoln Center, National Black Arts Festival) my job was to connect people who did not ordinarily connect with the arts to opportunities to participate. I found that the most effective way to bridge the gap was to make an invitation of welcome on behalf of the institutions. There is a correlation between many "major" arts institutions and the "church" in terms of how they represent symbols that are signifiers of belonging or un-belonging. For example, most New Yorkers know Lincoln Center as a cultural icon but never go because they assume or have been taught there's nothing there for them. The same can be said of churches. Many newcomers to FPC enter because the music draws them in – not the building, not the denomination, but the music. So much can be said about where the "church" "is" today, but part of our challenge seems that we aren't bridging gaps towards welcome. Both the institutions of the arts and the Church can suffer from the intentional or unintentional assumption that new audiences /new members appreciate and strive towards what the institution has to offer. The inconvenient reality is that people live full lives without ever attending the symphony or a worship service.
What led you to seek ordination in the PC(USA), and how is the process going for you so far?
I grew up in an African American Baptist Church in the Bronx, but spent most of my college years being a soloist or "ringer" in multiple denominational churches. Many doors can open when you're a tenor who sight-reads music. When I moved to Atlanta, I found a Presbyterian congregation that truly modeled what I thought "church" should be. That community called me out and suggested that I should think about seminary and the path to ordination. I knew that church music would always be part of my life (my grandparents sang in the Senior Choir, my aunts sang in the gospel choir, I had music lessons throughout childhood in the Bronx). It was quite a paradigm change to relocate myself physically and theologically from the choir loft to the pulpit. My teachers at the Interdenominational Theological Center (ITC) helped me to realize that I had gifts at the intersection of academia and the church that I should cultivate. I was given significant opportunities for leadership in and as a representative of Johnson C. Smith Theological Seminary. Members of the Presbytery of Greater Atlanta were invaluable in their support of my ordination exam prep and general morale building. I am indebted and grateful to them (ITC, JCSTS, and Presbytery friends) for that. They model what it means to be "under care."
Tell us about your Ph.D. studies.
My research in Biblical Studies and Early Christianity focuses on Africana Studies and Queer Theory as bases to foreground the lives of queer people of African descent. This work illuminates the problems of gender and sexuality in African American biblical interpretation which assumes a heterosexual subject, and the problems of race and class in queer biblical interpretation which assumes a white subject. It is complicated by geographical locations. My options as a same gender loving man in the NY/NJ area are different from those of a gender fluid person in Iowa, or a person of trans* experience in Kingston, Jamaica. However, we are real people who not only fight to survive socio-political circumstances, We. Read. Scripture. and thus fight to survive and thrive in religious communities. My work explores what happens when our lives are placed at the center of biblical interpretation.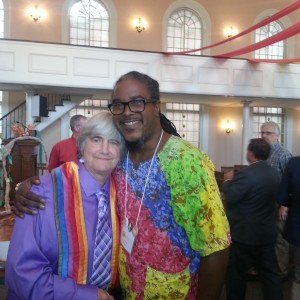 What are your hopes for your ministry post-ordination?
I subscribe to the adage that we make plans and God laughs, but ultimately I want to be a Reverend Doctor. I would like to pastor a church and teach Biblical Studies (intro courses, exegetical electives, Koine Greek). It would be great to be able to combine cultural and literary studies with biblical exegesis to be able to teach classes like "Baldwin and the Bible," etc. I hope to continue working with national and community groups that further the causes of LGBT inclusion (and actual hiring) in the Church, as well as with opportunities to support the #Blacklivesmatter movement at whatever local level that I end up in.
How can we encourage other young Black people to pursue leadership in our denomination?
I think we need to provide opportunities to hear from young Black people on their own terms. While traditions are important, my experience is that young people aren't interested in being replicas of their grandparents. Times have changed, and in many locations around the country young folks "get it" in terms of multiculturalism, communications, various expressions of gender and sexual identities, and other multiplicities that Baby Boomers and Gen Xers are still trying to catch up to. In an age of sermon streaming the preachers of our choice, iTunes, YouTube, SnapChat, Bible apps, and various hang out platforms, the older "we" have to determine how to make the congregational experience relevant for them, in ways that are relevant for them. It might mean considering other "young people" times and formats. It might mean "we" have to get out of the way.