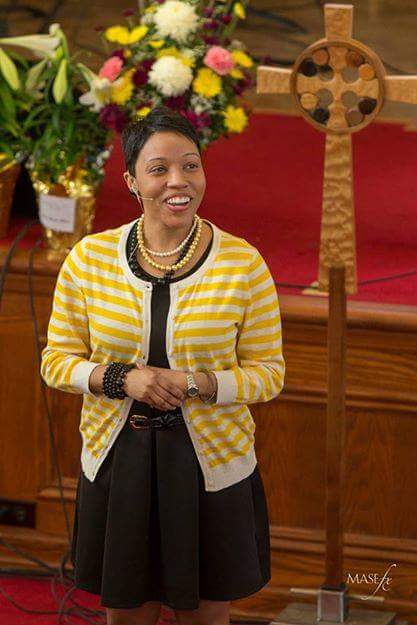 Today on Our New Day Begun, I present to you the Reverend Aqueelah Ligonde, minister member of the the Presbytery of New York City. I first met her this past summer at Montreat. We were both participants in the Racial Ethnic Executive Leadership institute, a vehicle of the Racial Ethnic and Women's Ministries in the Presbyterian Mission Agency of the Presbyterian Church (USA). REELI identifies and encourages people of color in our denomination who show potential for executive leadership in the denomination. Aqueelah is an incredibly passionate and gifted minister, and I'm eager to share all that she is doing for and in the church!
From pastoring to serving in other capacities, you're a busy woman! Tell us about your current call and your other service to the church and community.
It is a great season for me! I feel like I am living right where God wants me to live…in my sweet spot. Currently, I am the Site Coordinator for the NYC Young Adult Volunteer program. It is the inaugural year for the NYC site and I am thrilled to be able to kick us off. I am also serving the PCUSA in another ministry, Racial Ethnic Young Women. As Field Staff for REYW I get the awesome opportunity to support, nurture, connect, and serve alongside young woman from around our denomination.
In March of 2015, I became a Staff Consultant with an incredible organization called Ministry Architects (MA). MA helps churches to build sustainable, healthy ministries through consulting, coaching, providing resources, and overall support. MA specializes in children, youth, young adult, and small church consulting and coaching.
This year even more doors are opening up! I am currently being trained to be a trainer for Youth Specialities and Gen On Ministries. Both are wonderful ministries to youth and children that seek to support and train youth leaders across the nation.
Tell us about your religious background/upbringing and how you came to discern a call to ministry.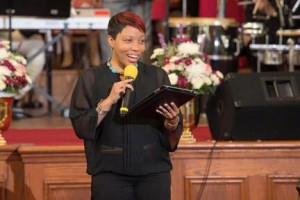 I grew up in a Baptist Church in Dayton, Ohio. I like to joke and say that I was a member even before I was born because my grandmother, mother, and aunts had been members there since the church was founded.
I've always loved church, even when I was younger. I loved the music. I love the love. Church always felt like home to me.
I was baptized when I was 10 years old. It was one of the happiest days of my life because I got to brag about being "dunked" in "cold water" and how that meant I was "saved" and how much God loved me. I remember getting on the bus the Monday after my baptism and going on and on about how "new" I was and how, now I was a part of God's family. Needless to say, the kids on the bus were more interested in the dunking part than the salvation part.
I began singing in the church choir after my baptism and I've never really stopped singing since then. One of my life's greatest joys has been to worship God in song and dance. Really any form of expression in worship brings me joy. I was able to flex my artistic muscles at my home church in Ohio. But, it wasn't until my teenage years, that I really began to get involved in church. When I was 12 years old, our church called a new pastor and my life changed.
This young pastor came into our small Baptist congregation and opened our eyes to what it meant to be a church in the community, not just a church of  the community. Rev. Daryl Ward and his wife Rev. Vanessa Ward, brought an energy I had never experienced before in church. It was contagious! They helped us to reach outside the four walls of the church and be engaged and fully immersed in community. This shaped my idea of church and God in a great way. For me, church became about God's movement and presence in the world…everywhere…all the time! I wasn't just about Sunday mornings. Or Bible Study. Or when I was dressed up. But, church happen on the street. At my school. With my non-Christian friends. And, when I served with my family. Worshipping God, community action, empowerment of people, how I engaged my family and community all meant the same thing to me. It was all church. It was all God. It was Jesus alive in my life.
So, my call to ministry was really an expression of what had been grown in me by God and the people around me. I don't think I thought about being called as something that would happen to me. I think I just felt that my call was something that had always been in me. And, at the time when I needed to figure out which direction my life would go, the calling inside of me rose up. I have amazing people in my life who helped me to listen for God's voice and not be afraid to move on it.
New York is a brand new YAV site. How has the experience been so far?
So far, the experience has been wonderful! There are four really amazing young adults serving here in the city and  they are really setting the bar high for the years to come. It has been so refreshing to watch them take the city on. It has also been an interesting experience to watch them change in such a short amount of time. I am watching their confidence grow, their faith expand, and their view of the world around them begin to shift.
Here at the NYC site, we are open only to second year YAV's, which means they served somewhere else last year. So, they came into this second year with some experience under their belts. But, even though they know the program, this is a different place, a new year, and unfamiliar territory. All of that comes with a different set of challenges and opportunities to engage God in a fresh way.
We are growing and learning together. We are experiencing all the "firsts" together. Most importantly, we are learning that there are lessons to be learned in everything if we are open to God and each other.
What do you most appreciate about our tradition? What do you think needs to change?
What I love most is the fact that there are a lot of people, pieces, and places that make up PCUSA, but it still seems to feel like you can be connected to someone, something, and somewhere. I love that there are always resources and opportunities to be accessed. I love that the church seems to finally be recognizing the gift of this generation.
One thing that I have learned through the YAV program and REYW, and even in my work with Ministry Architects, is that we have the privilege of living in an age where the world is literally at our finger tips. And the people who know this the best are our children, youth, and young adults. They understand the world in ways some older folks will never understand. They have an insight that is so necessary in the growth of the church that if we don't embrace them and pay attention we will miss out on a move of God. I am sure of that!
I love that our tradition is "always reforming"…always looking ahead…always willing to listen. But, I pray we learn to stop long enough to actually hear the voices of this generation. I pray we continue to open our doors and hearts to them so that what we see ahead is not just our own reflection, but the reflection of God's grace passed down from generation to generation.
How would you say our denomination is enriched by Black Presbyterians?
First let me say that my own personal life has been enriched by Black Presbyterians in the past 11 years that I have been a member of this denomination. My experience here in NYC, with Black Presbyterians has been one of great support, guidance, and empowerment.
The Black Presbyterians, in NYC, embraced me as if I had always been a part of this church. As I was going through the ordination process, they were like my own personal cheering squad. They encouraged this baptist raised, mid west grown, fresh to the city, young woman to not be afraid to lead in this denomination.
As a whole, I believe that the voices, hands, and hearts of Black Presbyterians have helped to shape conversations and propel movements for the denomination. I think the contributions and dedication of Black Presbyterians has given life to this Church and will continue to give life as we explore new ways to engage and embrace each other across the board.
Related