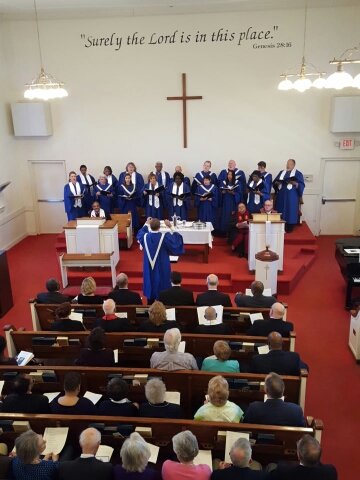 On Sunday, April 24th, I delivered the benediction at my church, immediately hopped in my car, and drove some three hours away to Princeton, New Jersey to attend a very special service at Witherspoon Street Presbyterian Church. It was a worship service "Witnessing for Unity, Reconciliation, and Healing," correcting a more than a century-old injustice imposed upon the congregation by its own Presbytery.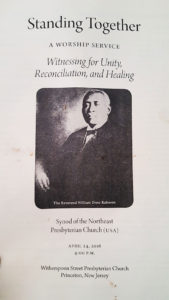 In 1879, Witherspoon Street Presbyterian Church called its first black pastor, the Reverend William Drew Robeson (you may also know him as the father of Paul Robeson). Rev. Robeson served Witherspoon Street for twenty-one years before the pastoral relationship was dissolved by the Presbytery of New Brunswick. By all accounts, his removal was racially motivated. Robeson was an ardent opponent of Jim Crow and was a force in the church and community for the rights Princeton's Negro community. The congregation vocally opposed dissolving the pastoral relationship, and his removal severely decimated its membership (see the story explained at Presbyterian Outlook).
This week's worship service was the culmination of efforts on the part of the Presbytery of New Brunswick and the Synod of the Northeast to rectify a racially motivated injustice that left a church ravaged and a minister and his family in dire straits. Acts of restitution have included a public apology from the Presbytery of New Brunswick and the forgiving of the remainder of the debt on the Robeson House, which the church had to sell after Rev. Robeson's departure but was able to repurchase in 2005. A series of powerful acts indeed by a Synod determined to live into its call to racial justice and a Presbytery that understands that, even though no one living was guilty of these injustices, to paraphrase remarks given at the service, those who are here now are yet responsible.
And it only took 115 years.
There I worshiped with sisters and brothers from throughout and beyond the area, from all different races, backgrounds, and walks of life, all committed to justice and reconciliation, and I thought about how chronological distance might be facilitating such an act. I suspect it's easier to apologize and make restitution for something from which we have a good amount space (the distance helps us see it clearer). It's much more difficult to reconcile and apologize for something that's more "fresh."
At my denomination's General Assembly this summer, an overture offering an apology to the LGBTQ community for harms done will come before the body for a vote. So far, the overture has been received in a variety of ways, ranging from enthusiastic support to concerned rebuke, and some offering compromise on the parts that may be viewed as problematic. It's certainly one overture to watch as we go into our proceedings this summer. Yet, I often wonder how this overture would have been received if it were presented 10, 20, or even 50 years from now, once some distance has been created. It has only been five years since ordination of LGBTQ candidates was allowed in our denomination, and a little over one year since same-sex marriage rites were permitted. Similarly, we have overtures calling for the repudiation of the Doctrine of Discovery, offering an apology to Native Americans, Alaska Natives, and Native Hawaiians, and acknowledging and reconciling for killing Korean civilians in July 1950. None of those overtures have elicited the same response or fervor as the one calling for an apology to our LGBTQ family.  Is our reaction to this particular overture informed by our proximity to what it addresses? I have no answers; I simply wonder.
Sunday's service certainly has me thinking about reconciliation — when it's easiest to do, when it's hardest to do, and what realizations facilitate it. And I hear the Rev. Dr. Martin Luther King, Jr.'s words in my spirit, "The time is always right to do what's right." I would hope that when institutional sins and injustices are brought to light, or when we recognize there are breaches that must be repaired, we courageously address those things and do so sooner than later. Witherspoon Street should not have had to wait 115 years for justice and reconciliation, but Sunday's moment gives me hope. It gives me hope that the breaches we'll bravely face this summer can and will be repaired. I don't know what the final outcome will look like, but I have faith that it won't take over a century to do it this time.