So, this happened.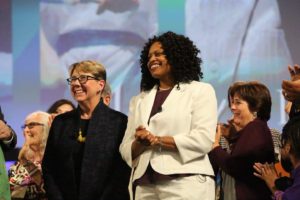 And this.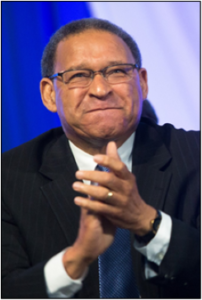 And so did this!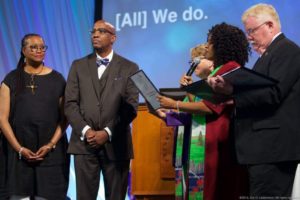 Over the past week, I and my colleague Jan have had the honor, privilege, and responsibility of serving our denomination as the Co-moderators of the 222nd General Assembly. We have ushered our assembly (and been fabulously supported by staff) into some thoughtful and often difficult proceedings. And throughout the assembly, I've been deeply impressed by our members' graciousness and resolve. When the hour got late and the questions got confusing or frustrating, we made a point to remind everyone that we're going to be alright.
And we were. In fact, I think we're better than alright. These faithful people tackled issues such as fossil fuel divestment, the merits (or not) of BDS in the Israel-Palestine conflict, organizational restructuring, and repentence for our role in oppression and violence with such grace, class, and love. Even those who didn't get their way never lost their way. They stayed engaged, lovingly dissenting if they felt called to do so, and remained in the conversation and around the Table.
I come away from this assembly with more hope for the church and our denomination than I think I've ever had, because the 222nd General Assembly let me see anew what beloved community looks like. And for anyone who thinks young people are disconnected from our church, I'd suggest they meet our Young Adult Advisory Delegates, as well as the many young commissioners we had!
A lot of great work was done here in Portland. We've adopted a new confession — the Confession of Belhar — that rejects the sin of racism and division and lifts Christ's call to the "visible unity" of the church. We elected a Stated Clerk to lead our denomination. And, while I understand that some feel some of our overtures didn't go far enough, such as our acknowledgment of harms done to the LGBT community, I'm hopeful and confident that what was passed has set us on the right path. Wherever we landed this past week, it's clear to me that God is not through with us, and to paraphrase our new Stated Clerk, we're not dying, we're being reformed.
To the commissioners, advisory delegates, volunteers, and observers of this year's General Assembly, you have no idea how profoundly you've ministered to us! You have served and conintue to serve not just your denomination, but your Savior incredibly well! To the staff, I'm convinced you will never be appreciated proportionately for the work you've put into this, but I intend to try!
Presbyterian Church (USA), may the Lord God bless you "real good." And, indeed, we gon' be alright.