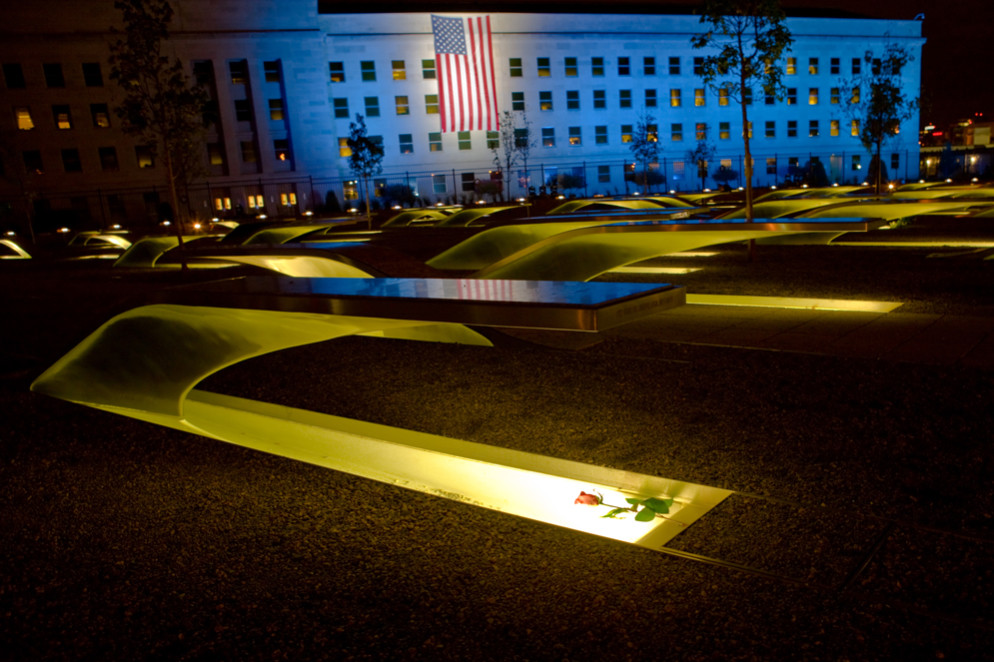 The following is a sermon I preached at Unity Presbyterian Church in Temple Hills, Maryland on this, the 15th anniversary of the September 11th attacks.
---
Exodus 32:7-14

7 The Lord said to Moses, "Go down at once! Your people, whom you brought up out of the land of Egypt, have acted perversely; 8 they have been quick to turn aside from the way that I commanded them; they have cast for themselves an image of a calf, and have worshiped it and sacrificed to it, and said, "These are your gods, O Israel, who brought you up out of the land of Egypt!' " 9 The Lord said to Moses, "I have seen this people, how stiff-necked they are. 10 Now let me alone, so that my wrath may burn hot against them and I may consume them; and of you I will make a great nation." 11 But Moses implored the Lord his God, and said, "O Lord, why does your wrath burn hot against your people, whom you brought out of the land of Egypt with great power and with a mighty hand? 12 Why should the Egyptians say, "It was with evil intent that he brought them out to kill them in the mountains, and to consume them from the face of the earth'? Turn from your fierce wrath; change your mind and do not bring disaster on your people. 13 Remember Abraham, Isaac, and Israel, your servants, how you swore to them by your own self, saying to them, "I will multiply your descendants like the stars of heaven, and all this land that I have promised I will give to your descendants, and they shall inherit it forever.' " 14 And the Lord changed his mind about the disaster that he planned to bring on his people.

1 Timothy 1:12-17

12 I am grateful to Christ Jesus our Lord, who has strengthened me, because he judged me faithful and appointed me to his service, 13 even though I was formerly a blasphemer, a persecutor, and a man of violence. But I received mercy because I had acted ignorantly in unbelief, 14 and the grace of our Lord overflowed for me with the faith and love that are in Christ Jesus. 15 The saying is sure and worthy of full acceptance, that Christ Jesus came into the world to save sinners—of whom I am the foremost. 16 But for that very reason I received mercy, so that in me, as the foremost, Jesus Christ might display the utmost patience, making me an example to those who would come to believe in him for eternal life. 17 To the King of the ages, immortal, invisible, the only God, be honor and glory forever and ever. Amen.

Luke 15:1-10

1 Now all the tax collectors and sinners were coming near to listen to him. 2 And the Pharisees and the scribes were grumbling and saying, "This fellow welcomes sinners and eats with them." 3 So he told them this parable: 4 "Which one of you, having a hundred sheep and losing one of them, does not leave the ninety-nine in the wilderness and go after the one that is lost until he finds it? 5 When he has found it, he lays it on his shoulders and rejoices. 6 And when he comes home, he calls together his friends and neighbors, saying to them, "Rejoice with me, for I have found my sheep that was lost.' 7 Just so, I tell you, there will be more joy in heaven over one sinner who repents than over ninety-nine righteous persons who need no repentance. 8 "Or what woman having ten silver coins, if she loses one of them, does not light a lamp, sweep the house, and search carefully until she finds it? 9 When she has found it, she calls together her friends and neighbors, saying, "Rejoice with me, for I have found the coin that I had lost.' 10 Just so, I tell you, there is joy in the presence of the angels of God over one sinner who repents."
Fifteen years ago today, we all lived through a horrible nightmare. As the news reached us that a plane had flown into one of the twin towers of the World Trade Center, and then that a second plane had flown into the other tower, I remember watching my television in horror, my mouth agape and my heart in complete disbelief. It looked like something out of a movie, but it was on the news. It was real.
As NBC's Jim Miklaszewski reported from the Pentagon on what was unfolding in New York, he interrupted his own remarks to say that, though he didn't want to alarm anyone, they'd just heard a loud blast there at the Pentagon.
I need you to know a few things about that moment. First, I had a connection with the Pentagon. My mother had been stationed there as an Senior Master Sergeant in the Air Force just two short years earlier. She'd served there throughout my high school and most of my college years, and so DC was my second home growing up. She'd recently retired, had moved back to southeastern Virginia, and was working in a civilian position with the Navy. We still, however, had close family friends who were working at the Pentagon. In fact, one of my mother's best friends — a woman who is like an aunt to me — worked on the side of the building the plane hit, yet she happened to be in another part of the building at the time. What's more, my mother, in her position with the Navy, was in the city that day on official business. It was clear now after not one, not two, but three planes had flown into epicenters of American economic, political, and military power, that we were under attack. As reports filtered in about car bombs in the city (which were later debunked), I asked, "What's next?" The next question I asked was, "Where is my mother?"
I could not find my mother. I was a recent college grad who'd just moved to Northern Virginia looking for work, and I could not find my mother. Attacks were happening across the country, and I could not find my mother. Mobile phones were useless as the lines were completely clogged, and I could not find my mother.
I panicked. I hyperventilated. I prayed. I bawled.
I kept trying.
Finally, my mother was able to use a public phone and reach me by landline and let me know she was okay. She was at Bolling AFB, which, she assured me, was the safest place she could be at the time. I'd found my mother!
I'm mindful of the countless similar searches others carried out that day. Some reconnected with loved ones and rejoiced. Others were not so lucky. And yet others still never retrieved what they were looking for, as their loved ones remain missing.
I read Jesus' parable about the lost sheep and the lost coin and I think back to that fateful day when I had ostensibly lost something that was precious to me, but found it once again. I think back on what that felt like. I think about the woman's frantic search for that coin, the energy expended by her feverish house cleaning, and the anguish she must have felt. Was that her only source of income at the time? Was she risking starvation without it? Did someone dear to her give it to her? Whatever the matter, she needed that coin. It didn't matter that she had nine others, because this coin still mattered. It, too, was valuable, and she would not rest until it was found. Moreover, when she did find it, that was cause for celebration. When the shepherd found that one sheep out of 100, that was cause for celebration.
Jesus' teachings were attracting tax collectors and sinners. As a reminder, tax collectors, though agents of the state and officers of the law, were known for usury and exploiting the poor. They were state-sanctioned thieves essentially, using shakedown tactics and lining their pockets wherever possible. These fellows were known scoundrels. The Pharisees and scribes — the religious elite who lived and breathed Scripture — took note of how Jesus welcomed them. And they grumbled about it! Now, we love to beat up the Pharisees and scribes in these cases. I'm not going to do that. For one thing, I know as a person of faith and a religious leader I have more in common with them than I care to admit. For another, if I saw someone who persistently cheated me coming to Jesus and consequently being embraced, I would have some feelings about that, too!
Jesus, then, has to frame for us what a known sinner coming to hear the good news of forgiveness of sins through repentance feels like to heaven. It's like the shepherd finding that lost sheep. It's like that woman who finds that lost coin. It's like that young woman finding her lost mom. Because no matter how many other things and people are still in their employ, no matter how many more sheep the shepherd has, no matter how many more coins the woman has, the ones that are lost still matter. They have not been written off, nor does it ultimately matter why they were lost. They are yet precious in the sight of the One to whom they belong.
The Greek word for repent, μετανοέω, means "after think." It means to change one's mind, to stop a course of action, thought and practice, and to turn around. To make a u-turn, so to speak, in one's thoughts and behaviors. It's interesting that we read in Exodus 32 about a time in which God apparently changed God's mind. Our understanding of God often is that God is steady, unchanging, unflinching — that God does not change! But here, God actually models what it looks like to change one's mind, not simply for the sake of changing it, but for the purposes of restoring right relationship. Moses appealed to God's inclination toward relationship. Metanoia — thinking after the fact — is to reorient oneself when it becomes clear one has fallen out of right relationship with others.
If anything, a state-supported thief making a u-turn in life should indeed be cause for great celebration, because that means at least a few less robberies. A person being brought into right relationship with God means they have more right relationships with humans. And the peace which so often seems to evade us — especially on days like the one we had 15 years go — is a bit more in reach.
After the attacks on 9/11, the Rev. Jack Rogers who at the time was Moderator of the General Assembly and whom we lost just this July, said of that awful day, "This is the way it is every day in Jerusalem and Ramallah and many other places in the world." Indeed, we are mindful that this is the way it is in Aleppo. This is the way it is in South Sudan. This is the way it is on the Southside of Chicago. God, we are lost!
What should be good news to us is that God is still in the business of searching. God is still looking for those wayward sheep who grazed themselves away from the pasture. It does not matter how or why we got lost; all God cares is they we are found. And nothing is more evident of that than a God who would become flesh and dwell among us, who would spend his life teaching, and yes, correcting us, who would submit to death just so it could be defeated, and who would endow us with power and a place in his continued work of finding the lost, teaching them a better way, and creating a more just and peaceful world. God intends to find us and keep us close!
To the King of the ages, immortal, invisible, the only God, be honor and glory forever and ever. Amen.