Who I am.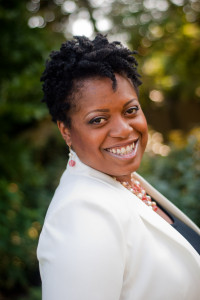 My name is Tawnya Denise Anderson (call me Denise) and I am a Teaching Elder in the Presbyterian Church (USA).  I serve as Coordinator for Racial and Intercultural Justice with the Presbyterian Mission Agency, and before that I served as Co-moderator of the 222nd General Assembly of the Presbyterian Church (USA) alongside this amazing person. I'm also a proud graduate of Howard University School of Divinity.
In my spare time [stifling laughter] I like to sew, take in concerts, and hop on a bus to New York for no reason at all. Oh, and I love God. I also love the Church. I'm at times baffled by and disappointed in the Church, but I love it and want to do my part to help it be all it can and all God has called it to be.
This blog is a space for me to theologize, brain dump, and bare my soul.
What's with the name?
The name is a play on the Reformed doctrine of sola scriptura (Latin for "only scripture"). In his book Faith Seeking Understanding: An Introduction to Christian Theology, Dan Migliore tells us the following about sola scriptura:
According to sixteenth-century Reformers, the Scriptures of the Old and New Testaments are the only necessary source and sufficient norm of Christian faith and life.
The doctrine was a refutation against the Roman Catholic teaching that tradition was as authoritative as scripture (even when the two contradicted one another) and that scripture itself is only interpreted through the magisterium of the church. Sola scriptura held that scripture is only interpreted with the help of the Holy Spirit and is accessible to any believer because the Spirit's work is not exclusive to church leadership. Simply put: scripture, much like grace, is sufficient. I won't argue the merits of sola scriptura vis-à-vis prima scriptura or any other doctrine that came about during or in response to the Protestant Reformation. All I'll say is the name of this blog is an homage to the Reformed tradition. Plus – and this is objective information not subject to argument – it's exceedingly clever!
The "SOUL" part of the name is a nod to my ancestral heritage. I'm a child of the 70's and 80's when "soul" was synonymous with Black folks. I grew up watching Soul Train on Saturday mornings, cleaning our house to soul music, dancing in "Soul Train lines" at weddings and family reunions, and listening to James Brown and Rakim declare to all of us that they had "soul." The word also invokes the themes in W.E.B. DuBois' The Souls of Black Folk — and few spaces have you exercising that "double consciousness" of which DuBois speaks like being Black in the PC(USA)! My theology, my spiritual life, and my witness are very much reflective of my heritage and my experiences. In this blog, I talk about my experiences as a young(ish) African-American woman in a predominantly white denomination.
As for the tagline "To Be Young, Gifted, and Reformed", go here for the inspiration for that. And here. Or here. Hey, even here. Once again, a nod to my heritage and an acknowledgement that, though most of the people in my denomination are both older and whiter than me, we are all united in Christ!
Disclaimer: The views expressed in this blog are mine and mine alone. They do not necessarily reflect the views of any church I serve, nor do they necessarily reflect those of my denomination.