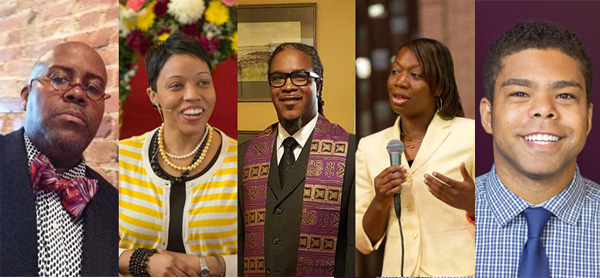 Another installment of Our New Day Begun is in the books, and I feel incredibly blessed to have heard from some dynamic leaders in our denomination. A few closing observations:
1 – None of those featured are "cradle Presbyterians." Like me, everyone I spoke to had come to the denomination from another (or no) tradition. I was surprised by this, actually. I expected at least one of them to have been in the PC(USA) from childhood. And I wonder about the implications of that.
My colleague, Aric Clark, recently posed the question of what the PC(USA) will look like in the future. Somewhat tongue-in-cheek, I replied, "Browner." But that's not a joke, or even a misty hope; it seems to be a trend. And I find it fascinating that these leaders came from somewhere else, bringing with them those perspectives and experiences to this tradition. It's apparent to me that we're being called here. What is God saying in that? If I were to posit what it means, perhaps it means our denomination must resist any temptation to be insular in our thinking, and be open — truly open — to the "new" things God desires to do with us. We do not and will never again look like the denomination of reunification, and that's a good thing.
2 – They are saying the things we need to hear. I loved all of what they had to say, but there are nuggets that I think are especially resonant and need to be heard.
When asked what he most appreciated about our tradition, Carlton Johnson said, "I most appreciate the PCUSA's interest in matters of social justice, both locally and around the world.  I most appreciate this because I believe it to be consistent with the primary interest of the God of the Oppressed and Jesus the Christ who was very clear of his call 'to bring good news to the poor.'" I do hope we continue to make him proud in this area, and not abandon this important witness.
Aqueelah Ligonde lauds the contributions of Black Presbyterians to this denomination: "As a whole, I believe that the voices, hands, and hearts of Black Presbyterians have helped to shape conversations and propel movements for the denomination. I think the contributions and dedication of Black Presbyterians has given life to this Church and will continue to give life as we explore new ways to engage and embrace each other across the board."
Similarly, Perzavia Praylow shares how she has been inspired by the contributions of Black Presbyterians: "…even before I became a member of a Presbyterian church or attended a Presbyterian seminary, I developed an interest in the social and civil contributions of Black Presbyterians in the development of our nation, particularly in the southern United States."
And yet, Eric Thomas encourages us to look intently to the future: While traditions are important, my experience is that young people aren't interested in being replicas of their grandparents. Times have changed, and in many locations around the country young folks 'get it' in terms of multiculturalism, communications, various expressions of gender and sexual identities, and other multiplicities that Baby Boomers and Gen Xers are still trying to catch up to."
Finally, Joseph Morrow warns us not to make inclusion about numbers: " To put such a goal at the center of our witness puts it in danger of becoming just another form of status seeking in a newly forming multicultural society. Rather than seek status through numbers, let us first seek God's reign, justice and righteousness through ministry and learning with people of color."
3 – Next year's feature will, I hope, include African immigrants in the church and/or their children. Blackness is expansive. African immigrants are one of the fastest-growing demographics in our denomination. As Joseph Morrow put it, "There is an emerging generation of Black Presbyterians whose families hail from West and East Africa, who will add new dimensions to our cultural identity and its influence on the PC(USA) and US society." These sisters and brothers come with their own perspective and understanding of their location in this tradition. I'm interested in hearing more about it.
4 – I remain encouraged and excited for our future. God continues to do something amazing, and is in large part using people of color to do it. As much as we may wrestle to find our voice here, it's needed, and it's needed because God says so. We have much work left to do, but I'm hopeful for an increasingly inclusive church and look forward to what God will do in and through this tradition.