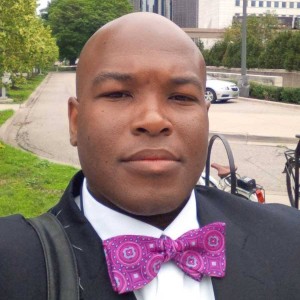 Today in the "Our New Day Begun" series, I'm pleased to feature the Reverend Jerrod B. Lowry, a Teaching Elder in the Presbytery of Utah. Jerrod is a 35-year-old pastor who hails from Augusta, GA. Before coming to his current church, Jerrod was the pastor of Saint Paul Presbyterian Church in Louisburg, NC and the Associate for Specialized Ministries for the Presbytery of  New Hope. He is a family man who truly has the heart of a pastor, and I'm glad we get to hear from him. Enjoy!
***************************************************************
Describe your current call.
I serve as the pastor for Community of Grace Presbyterian Church (USA) in Sandy, UT – a suburb of Salt Lake City. We are a mid-sized congregation of roughly 210. Our members cover a wide spectrum. We are children, youth, young adults, established professionals, and retired seniors. We are conservative, moderate, and liberal politically and theologically. We are predominately white but have enough representation to be considered diverse in the PC(USA). I've found that most were not raised Presbyterian and many joined because we are the closest non-Mormon worshiping community to their residence.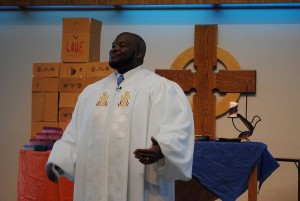 What led you to pursue ordination as a Teaching Elder?
Since middle school I've felt what I would often describe as "a tugging toward something". It was the support and encouragement of my family and many great saints in the church, who would tell me "have you considered the ministry" or flat out said "you're going to be a preacher", that I now feel paved a clear path for me.
What has been the most rewarding thing about being in leadership? What has been most challenging?
What's been the most challenging aspect of leadership has been dealing with the built in paradigm that as the pastor I have to be the leader. I've found it most rewarding when members of the congregation and the officers of the church feel encouraged to lead various ministries and aspects of church life. I can not begin to describe the beauty of seeing someone who swore "they could never do…", do just that, and realize doing it fed them in a way they never imagined possible. As a pastor I feel called to encourage people to realize their own calling.
You've said that you often find yourself "sitting at tables as the lone racial ethnic representative." Would you say this is part and parcel of being a minority in our denomination?
Finding yourself as a clear representative for some larger community is certainly an aspect of being a minority in our denomination. However I am grateful for the attention and intention to placing voices around the tables within our denomination. There have been times when I worried that it always seems to be the same voices at many tables and have joked with some that they seem to be thee "young Hispanic male", "young Korean female", "young LGBTQ ruling elder" always called to be a voice at the table. We could probably do better finding more voices and different voices. I adamantly believe there need to be greater diversity among the seats of power in our denomination. Having diverse voices around the table for consultation is good but lacking diversity among agency heads is problematic.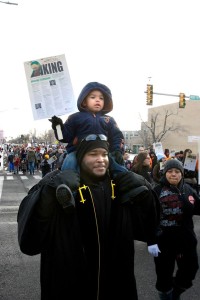 Any tips on how to speak truth to power in these situations while remaining pastoral?
Anytime you speak truth I believe you are being pastoral. A pastor must be both priest and prophet, blessing and challenging. We can be truthful without being belligerent.
How can we encourage more young African-Americans to seek leadership roles in our churches?
I am convinced there are many who would consider leadership rolls if they were only asked and encouraged.
What should our denomination pay more attention to re: its racial/ethnic minorities?
I think churches as a whole (this denomination and others) need to reconsider what church looks like, sounds like, feels like. We still assume the ideal thriving church is one with 200+ monochromatic pledging members, serving on committees, and attending a tall steeple on main street. In the same manner the model pastor  and leadership for this ideal thriving church is white, heterosexual, married, male. Celebrating alternatives would go a long way opening doors and minds. In the same manner young African American church leaders need to know their voices and gifts could be beneficial serving all congregations and not just those that are predominately African American.