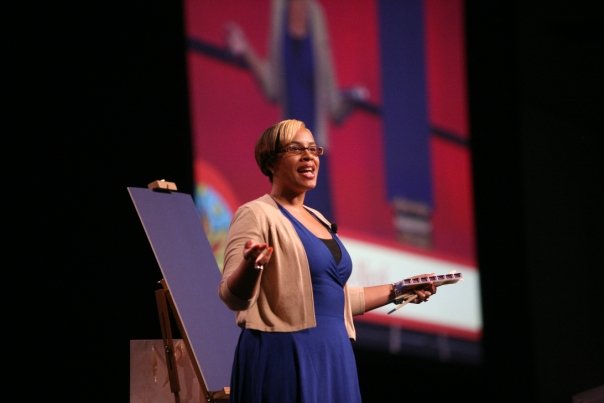 I am thankful that we get to meet the Reverend Nancy Benson-Nicol in today's edition of  "Our New Day Begun." Nancy is a Teaching  Elder and currently serves as the Associate for Theological Education Funds Development with the Theological Education Fund (read below for a more in-depth look at her work with that). She has a wealth of experience and insight to share with us, and the joy and pride she takes in her work is evident in this interview. Read more about her and you might find that her joy is contagious!
***************************************************************
Your ministerial career has been pretty varied in its settings. Can you tell us about your background and the richness of your experience?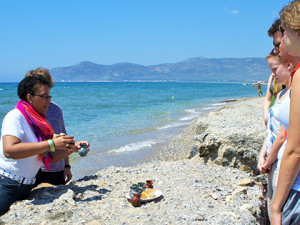 I am a "cradle" Presbyterian from Doylestown, Pennsylvania, ordained by the Presbytery of Philadelphia as a teaching elder in 2001. "Fun fact": I have been "Black history" as a "first" in nearly all of my ministry contexts and at least half of my educational ones (but I suspect that this is the case for many Black Presbyterians, given the demographics…). Prior to ordained ministry, I served the national church as an elected member of the Advisory Committee on Social Witness Policy, of which I served as vice chair at the tender age of 23. If you're trying to calculate my age at this point, I'll spare you the work—I'm 39 (that makes me, like, 21 in "Presbyterian years" though, doesn't it…?)
My professional ministry experience falls essentially into three categories: congregational ministry, college chaplaincy, and administrative leadership. My first four-and-a-half years in pastoral ministry were in church settings—first, as one of the initial cohort of young ministers at First Presbyterian Church in Ann Arbor, Michigan in its two-year Lilly Parish Ministry Residency Program, then as associate pastor of First United Presbyterian Church in Fayetteville, Arkansas. After nearly three years in Fayetteville, I accepted the call to serve as university chaplain of University of the Ozarks in Clarksville, Arkansas (a PC (U.S.A.)-related baccalaureate institution), where I was in ministry for nearly seven years before embarking on a path of ministry in administrative leadership in 2013 at the Presbyterian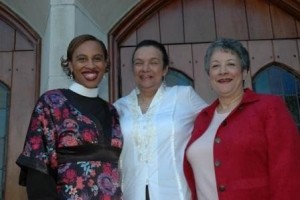 Center in Louisville—first, in Racial Ethnic & Women's Ministries as associate for gender and racial justice, then in Theology, Worship, and Education as associate for theological education funds development. Education is one of my passions, and central to my vocation. It is definitely a common theme throughout my calls.
Tell us about your current call and what you hope to accomplish in it.
Per action of the 221st General Assembly in Detroit last year, my current ministry with the Theological Education Fund (TEF) has shifted in context from the Presbyterian Mission Agency to the Presbyterian Foundation (effective 1/1/15). Now, I am the associate director for theological education funds development with the Foundation. My hope is that, in partnership with the more than 135 individuals across the country who comprise the Seminary Support Network (for which I am responsible to resource and supervise), I bear witness among churches, mid councils, and others to the importance of supporting the ministry and mission of our Presbyterian seminaries. Why? Because theological education matters; because those entrusted with caring for the church ought to be equipped to be critical thinkers, compassionate leaders, prophetic preachers, and prayerful seekers in service of the gospel; because God's realm deserves our best efforts at preparing faithful leaders, and our theological institutions embody those efforts.
For those who don't know about it, tell us about Dispatches to God's Household.
Also known as the "baby" I gestated for three years… (that's how long it takes to produce these studies, by the way)…Dispatches is the 2012-2013 Horizons Bible Study for Presbyterian Women.  Horizons is the official imprint of Presbyterian Women, and publishes an annual bible study curriculum in addition to a bimonthly magazine. Dispatches covers the General Epistles in the Christian Scriptures—1 Peter-Jude, specifically—with a focus on the nature of Christian community as explored in terms of family and household metaphors—themes common among these ancient texts, and relevant today in our contemporary understandings and descriptions of Christian community. Circles of Presbyterian Women across the country (and even around the world) engage these studies each year, and I consider it an enormous privilege to have been selected to write it. What is more, the gift of traveling in support of it during the summer and fall of 2012 and meeting so many incredible, inspiring women and men who are the church—the family of faith—God's household today—continues to fill me with gratitude.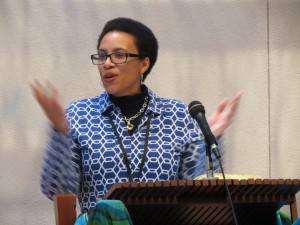 What would you say are the opportunities of being Black in the PC (USA)? What would you say are its challenges?
The way I see it, the opportunity is also the challenge of being part of a denomination that is, to date, 91.8% White. While it may be argued that there is strength in numbers, it is also true that there is immeasurable fortitude that resides in the margins. That is not to justify marginality, but to acknowledge its value, simply because we who inhabit the margins are valuable—to God, to the world, to the 91.8%, and to ourselves. Or, at least we ought to be.
For whatever strides the PC (USA) has made, what can our denomination do to further amplify the voices of its racial/ethnic minorities?
Take them (us) seriously, regard them (us) as valid, and honor them (us) legitimately as integral parts of the authentic witness of the historic, present, and future church. It's about more than voices, though—it's about honoring bodies, minds, hearts, hands, and spirits. Our whole selves. As my mother used to say as I was growing up about heeding her instructions, "it's that easy, and it's that hard." When we (the church as a whole) dismantle what progress has been made, we obstruct the gospel—pure and simple. So literally, for God's sake, church, let's just get on with getting it right, already!
Is there anything else you'd like to share or offer as food for thought?
Oh sure, but we've probably exceeded the "recommended daily allowance" of Nancy J. Benson-Nicol at this juncture, so I'll just say, "stay tuned, and keep the faith." Thanks so much for creating a space for me, and us, to share.