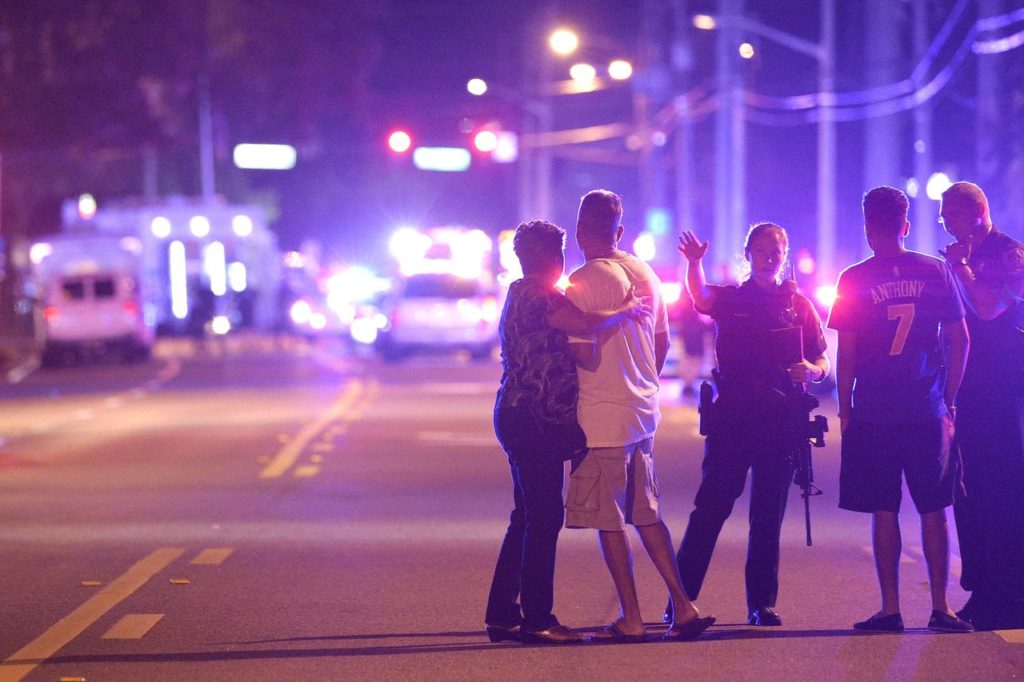 As I write this, it is the 11th Sunday in Ordinary Time (Year C) and I've just preached in part on the reading from  2 Samuel 12. David has been confronted by Nathan for his violation of Bathsheba and Uriah in the slickest of ways. The prophet tells the king a story of a cruel, thoughtless, and callous sin by a powerful person against someone with considerably less power. He paints a compelling picture of a wealthy monster who steals what little bit his poor neighbor has. Nathan then turns the canvas around and shows that he's been painting David's portrait.
"You are the man!" Nathan says. A moment before, David was ready to pronounce death and condemnation on the theoretical monster, until he realized the monster was him.
Early this morning, fifty lives were stolen in a well-planned act of anti-gay violence. Fifty LGBTQ children of God lost their lives because someone didn't like the idea of them kissing in public. During Pride Month. Fifty. The worst mass shooting (not mass killing, but mass shooting) in the history of our country.
Cue the political rhetoric about Islamic extremism and how it (and, by extension, all Muslims) should be stopped. During Ramadan.
Let Christians be confounded by (or, worse, silent in the face of) such a vile act. Let the church offer prayers and sympathy, scratch its collective head and wonder how such a thing could happen, as if we don't already know.
Forty percent of homeless youth identify as LGBT, most of whom were kicked out of their homes by families who refused to accept them, leaving them vulnerable to addiction, crime, and human trafficking. Somewhere between 30 and 40 percent of LGBT youth have attempted suicide. Much of this can be attributed to religious teaching. A pastor who counseled parents to turn their backs on their gay son, or submit their lesbian daughter to conversion therapy. Flippant comments about "sissies" thrown carelessly about from the pulpit, without regard for who they may pierce. Relegation of gay men to the choir loft (entertain us!), but kept from the Trustee board. Scapegoating same-sex couples as the purveyors of moral erosion. That's our doing. That's our assault weapon.
Church, we are the man!
This particular gunman took out fifty people in one night. How many LGBT sisters and brothers have we — the Church — gradually and systemically killed over a longer period of time? He and we have been in the same business. We're simply not as efficient as he was.
This is not to suggest there can't be a variety of theological leanings in the church. What I do suggest is that we have not experienced our differences in healthy ways. We can have hermeneutical diversity in ways that do not kill beloved children of God. We in the hetero-normative center have every advantage, comfort, and privilege available. Why, then, do we come for the sanctuaries, safe spaces, and treasures of those in the non-binary margins?
Sadly, many in our own ranks aren't too idealistically different from this gunman. And, though he may have been a "lone wolf," this kind of hate does not develop in a vacuum. It is nurtured. It is facilitated. It is given permission to thrive and grow. It is provided with a safe space. Church, for whom/what will we provide sanctuary? I believe God is calling us to make that decision today.
Note: It has been suggested that this post calls out any one specific denomination (namely my own), or conservatives within it. This post calls out hatefulness, which was the shooter's ideology and, sadly, is present in all denominations and religions, right and left. We must, whatever our theological leanings, fight concertedly and fervently against such ideologies, because they do indeed kill. Then and only then will we be a distinct witness to the love of God through Jesus Christ. Additionally, I am proud of my denomination's recent moves to live into the visible unity of the church by adopting the Belhar Confession and by acknowledging harms done to the LGBT community. We have a ways to go still, but I believe we're on the right track!